Traditionally, quick-service restaurants (QSRs) have focused on providing convenience and speed. However, with fast-casual continuing to win over guests, QSRs are rethinking their brick-and-mortar spaces to combine throughput-enhancing improvements with an eye for experiences. Walking into a restaurant, guests are now greeted with atmospheric lighting, smart use of color, and comfortable seating designed for lounging and Instagramming. Technological innovation is also coming to the forefront, as self-service kiosks, digital menu boards, and pickup/delivery shelves gain wider adoption.
While QSRs are reinventing their physical spaces to continue to provide convenience and encourage better restaurant guest experiences, certain remodel projects are facing pushback from franchisees over their significant costs and uncertain returns. For this reason, it's important that brands take a data-driven approach to designing, measuring, and optimizing their restaurant remodel initiatives.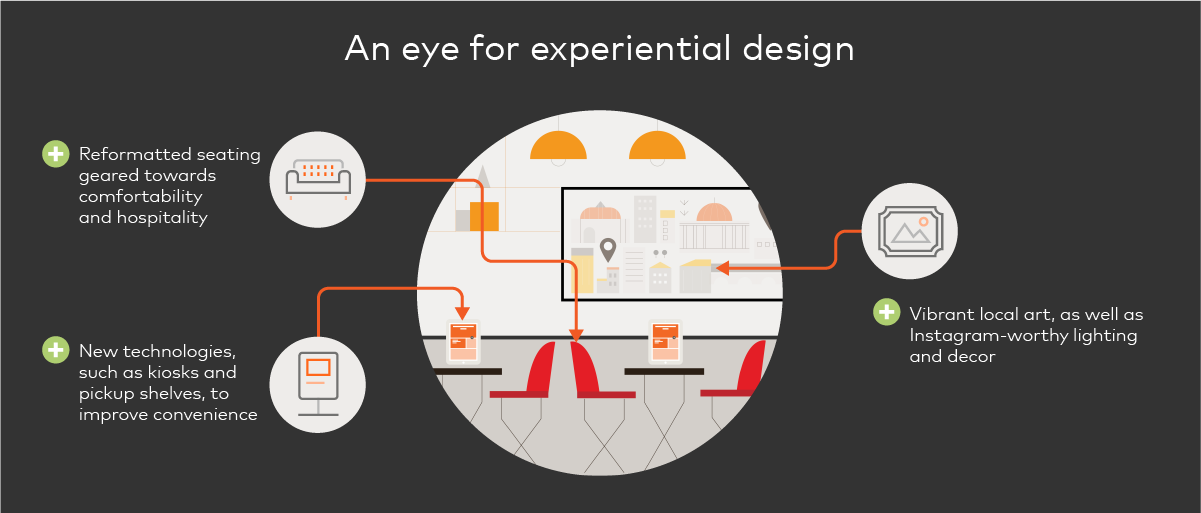 Redesigning for the Restaurant Guest Experience
Taco Bell Cantinas have opened across the U.S. in an effort to cater to a growing Gen Z population. Their dark wood-topped tables and black metal chairs, central dining bar and hanging Edison bulbs scream trendy bar. Yet, the design and associated quirky concepts—like weddings at the Las Vegas Cantina—have received praise for promoting a sense of community both in terms of supporting local artists and encouraging a night out with friends.
Similarly, Krystal—as a part of its "Iconic Series"—revamped five stores last year to improve its guest experience and adapt to changes in guest preferences. By incorporating expanded layouts, vibrant colors, and local community graphics, the renovations have generated sustained lifts in sales volume of 70 to 80%.
As consumers increasingly favor experiences over goods, designing restaurants to be both convenient and memorable will be key to staying ahead of competitive brands.
Data-Driven Remodels
With the substantial risks that come with large remodels, such as loss of sales during the renovation period and the cost of the remodel itself, it's crucial that restaurant brands take a data-driven approach to understanding where such investments will truly move the needle on profits across their network.
By first testing the remodels on a small scale, QSR brands can predict and target the most profitable locations for future refreshes, while earning franchisee buy-in with initial data-driven results and forecasts.
Moreover, it's important to recognize that not all elements of a renovation will add value. While additions such as a digital menu board may drive significant impact in some areas, digital menu board investments may not garner enough incremental traffic to break even in others.
This nuanced understanding of the true impact of a remodel program enables restaurant executives to tailor broader rollout across the rest of the network by picking the most impactful elements and targeting changes only to sites predicted to respond profitably.
Restaurant redesigns undoubtedly present a powerful opportunity to drive memorable, differentiated experiences that bolster guest loyalty. Knowing who your guests are, and in which locations an experiential concept will resonate with nearby customers, will be integral to prioritizing remodels to the locations predicted to have the most impact. By taking a data-driven approach to these programs, restaurant brands and operators can minimize risk and costs while increasing odds of success.
Ask Dean de la Peña
Questions on this article? Reach out to Dean de la Peña to learn more about how Test & Learn® can help optimize restaurant remodels