When it comes to choosing a credit card, travel benefits are a major factor in the minds of customers. Although they might not seem novel, travel solutions are still a critical way to reach one of your most profitable segments: affluent cardholders. According to Mastercard research, 80% of affluent consumers would use a credit card as their primary payment method if it came with desirable travel benefits. In addition, 30% of affluent card program redemptions are for travel-based rewards.
Recent credit card industry research shows that U.S. households with an average income of $100,000 or more account for 20 percent of the population, but 60 percent of total card spend. Furthermore, the average annual spend for affluent families in the U.S. is $23,000 for the travel category alone, and credit is their primary payment method abroad.
When given the choice, many affluent cardholders choose to redeem travel rewards and benefits over promotions or cash back. This base of cardholders are more willing to pay higher annual fees and spend five times as much on airline cards than they would on others. For credit card issuers, offering outstanding travel benefits can be critical in moving their card to the top of the wallet, capturing high-ticket spend and portfolio optimization opportunities with cross-border transactions.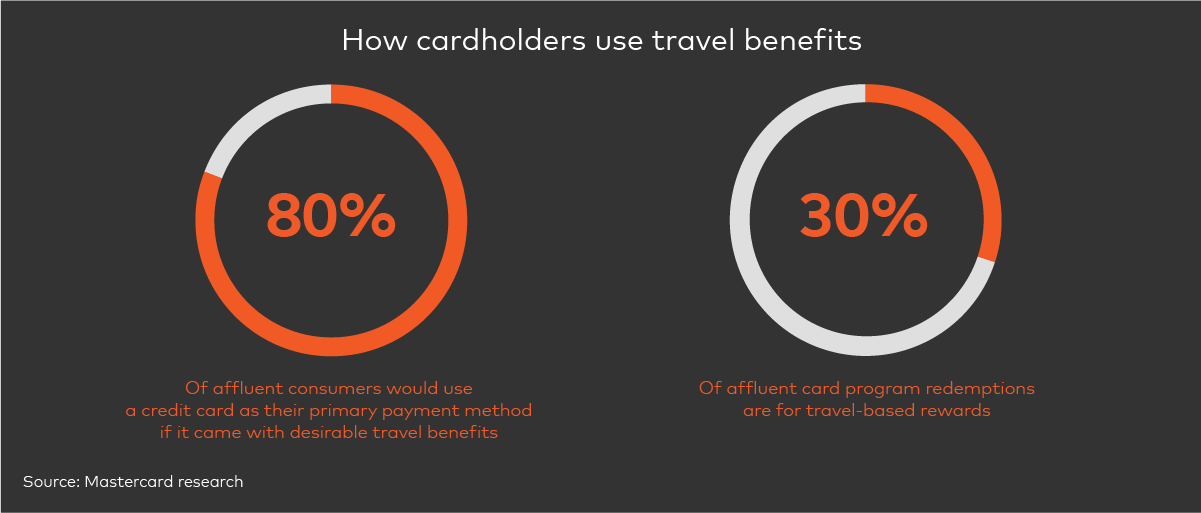 Affluent Cardholders Prefer Travel Benefits—But One Size Does Not Fit All
Historically, travelers' preference for specific credit cards has been driven by benefits including:
No foreign transaction fees

Travel credits

Airport lounge access

Accelerated rewards or miles

Complimentary travel upgrades or status benefits

Travel protection insurances
However, as the travel and credit card industries have matured, these once game-changing benefits have been reduced to the price of admission into the space.
When it comes to the various types of travel benefits, one size definitely does not fit all. That's why Mastercard has invested in travel solutions that help issuers appeal to a wide variety of cardholders. We know that some cardholders might prefer free checked bags, late checkout, discounted Wi-Fi or concierge services. Meanwhile, others prefer sign-up bonus miles, hotel price guarantees, companion fares or rewards they can spend in other industries such as cable services or gasoline. Furthermore, an innovative digital solution like Mastercard Pay with Rewards™ enables cardholders to use their points like cash at millions of locations worldwide.
Adapt Throughout the Customer Journey  
While all issuers know they should invest more in providing a seamless customer journey, most are not acting quickly enough. As an example, many cardholders are unaware of which travel benefits their card offers in the first place. In addition, 20 percent of cardholders say they haven't redeemed rewards because they haven't had the opportunity to do so. Issuers can demonstrate value to affluent cardholders by providing them with notifications and relevant in-market offers throughout their journey — from booking, to the airport, to the hotel and back home again — always keeping your card top of mind (and wallet).
With each purchase or reward redemption, cardholders are providing valuable indicators about their preferences. With advanced data analytics, issuers can deliver stronger personalized offers and content including:
Trigger notifications to alert cardholders when their points are about to expire, or when they are close to reaching the next reward tier

Personalized reminders based on spending patterns, such as an email about earning double miles for spend on groceries if the cardholder typically has high grocery spend

Geolocation-based offers, such as airport shopping discounts or automatic cashback offers through Mastercard Traveler Rewards
Go Beyond Expectations with Travel Benefits
We know that affluent travelers want meaningful, exclusive experiences and peace of mind when they travel. With this in mind, we've refreshed our Mastercard Travel & Lifestyle Services suite to be even more compelling for World Mastercard® and World Elite® cardholders — driving increased travel spend and loyalty for our issuers. With benefits from complimentary upgrades to a lifestyle manager available 24/7 to help with vacation booking needs, this offering will help issuers delight travelers.
Far from being par for the course, a robust suite of travel solutions still remains one of the best ways to tap into affluent cardholder segments. The most successful issuers will find ways to elevate their benefits to meet the imaginations of their cardholders.
Ask Jamie Samaha and Kyle Clark
Questions on this article? Reach out to Jamie Samaha and Kyle Clark to learn more about our Mastercard's suite of travel solutions for cardholders.