"Excite the mind, and the hand will reach for the pocket."
Harry Gordon Selfridge's pioneering of retail theater is perhaps more relevant today than ever. From showrooms to experiential pop-ups, retail has evolved dramatically since Selfridge created his eponymous department store in London, England around a century ago. As retailers ramp up their use of brick-and-mortar as a vital touchpoint in the customer experience, new developments in the use of retail space are once again looking to "excite the mind."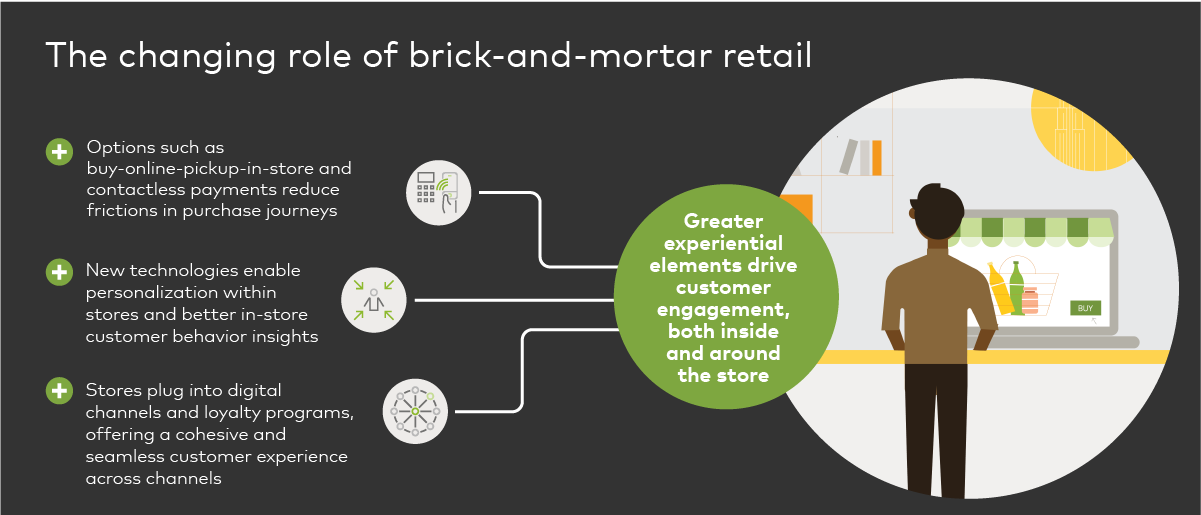 Driving Engagement in the Brick-and-Mortar Channel
Retail real estate served a variety of functions prior to the explosion of e-commerce. For years, the space would operate both as somewhere for customers to purchase items and as a warehouse for storing inventory.
As retailers have adapted to compete with online players, the use of physical space in retail has changed rapidly. Through showrooming, stores-within-stores, and buy-online-pickup-in-store (BOPIS), brick-and-mortar has shifted its focus to something that survivors of the so-called "retail apocalypse" know well—at the heart of any interaction, no matter the channel, the customer experience is key.
Recent examples like Danone's Paris pop-up or Moleskine's hybrid café/art gallery in Milan exemplify the complete transformation of retail spaces into branded experiences. Moreover, malls are now including more gyms, grocery stores, restaurants and movie theatres in their mix, exhibiting a greater shift to the co-location of retail with experience-driven neighbors.
Interestingly, Nike's Live concept recognizes loyalty members as they enter geofenced areas, providing personalized offers and in-store perks, such as pickup lockers and one-on-one appointments. By gathering valuable insights on customer behavior in-store, Nike can better personalize recommendations and service, strengthening its loyalty program while providing compelling 1:1 customer experiences.
Enabling Discovery through Store-within-Store
The focus on a better customer experience has also changed tried-and-true methods of brand partnership. For example, online brands such as Casper are working with traditional retailers to showcase new items and introduce exclusive product lines. These partnerships illustrate a growing change in store-within-store strategies, as direct-to-consumer brands take on a greater brick-and-mortar presence.
This evolution is exemplified by b8ta, the "store-as-a-service" platform that showcases technology products from primarily online brands. The company has taken the demand for touch-and-feel and built a full-blown business model out of it. As opposed to selling products with a mark-up, b8ta differentiates itself in that it instead charges rent for brands looking to leverage its shelves and analytics. Major retailers have also taken notice, partnering with b8ta to launch store-within-store concepts and enabling customers to discover and try out exciting new technologies before purchasing.
Similarly, Simon Malls is using its Launchpad store-within-a-store concept as a draw for consumer traffic and a testing ground for new products. While stores like these and b8ta are powerful drivers of compelling customer experience, they also provide vital insights into customer behavior through the use of innovative IoT technologies. By tracking metrics such as how long a customer spends at a certain shelf, and whether or not they choose to buy, retailers can begin testing tailored offers and promotions as well as optimized store flows and planograms.
Enabling Discovery through Innovative Store-within-a-Store Strategy
Whether through partnerships such as Casper's, pop-ups such as Danone's, or reimagined stores such as Nike Live, retail space will continue to evolve as a powerful tool to bring brands closer to their customers. As retailers test the waters with these new concepts, they must carefully analyze the effects on customer purchasing behavior to understand which initiatives really move the needle on profits.
For instance, a yoga studio-art gallery-coffee shop-apparel store hybrid may not excel everywhere, but situated close to the right customers and next to the right neighboring stores, it just might.
Moving forward, glitzy technological innovations, engaging loyalty initiatives, and experiential elements ranging from reimagined spaces to greater co-location with restaurants, galleries, escape rooms, and more—will breathe life into brick-and-mortar stores. Understanding how each of these factors affects one another and optimizing across all of them will be the key to building the future of retail.
Ask Michelle Carter
Questions on this article? Reach out to Michelle Carter to learn more about how Test & Learn® can help measure and optimize experiential retail initiatives