Scratch the "Travel" Bug, Even During Global Lockdowns and Uncertainty
Since the start of 2020, the coronavirus has made its way around the globe and grounded travel temporarily. Uncertainty about when leisure travel will take off again still looms. 
Even though COVID-19 continues to linger, consumers should still be able to enjoy experiences and rewards associated with their travel perks from the comfort of their own home. In an effort to continue to bring value to cardholders, Mastercard has adapted several of its travel and loyalty products to provide the joys of travel and its associated perks, even while most of the world continues to socially distance. 
"Even though COVID-19 continues to linger, consumers should still be able to enjoy experiences and rewards associated with their travel perks from the comfort of their own home."
Here are 3 ways issuers can continue to deliver that value and help their cardholders continue to scratch their "travel" bug: 
International Shopping from The Couch
One of the most sought-after travel experiences is shopping. Travelers love making purchases they can't find in their home countries, finding the best deals, and bringing home unique gifts for friends and family. In 2019, travelers spent $107.3 billion on retail purchases, according to the US Travel Association. In addition, more than half of travelers (54%) go shopping during their summer vacation, according to Statistic Brain.
That experience doesn't have to end with social distancing. Mastercard is bringing international shopping trips back to consumers by expanding Mastercard Travel Rewards, its in-person international travel rewards offers, to include e-commerce cash rebates on cardholders' statements. This initiative is fully funded by merchants and gives cardholders access to over 300 marquee brands from five new online merchants, including GIGLIO.com, Boggi Milano, Forzieri, Anatomie and 1-800-Flowers, with global shipping and more merchants and geographies to come.   
Peace of Mind, Even When Shopping Online
A lot can happen when making online purchases. Items may arrive damaged, or not be delivered at all. Despite this, the shift to online shopping has not stopped consumers from making big-ticket purchases.
Among the purchases people are making during the global pandemic, electronics are up 86% year over year; sports and outdoor gear, including gym equipment, is up 131%; and home improvement items are up 71%, according to Rakuten Intelligence.
Mastercard offers several insurance solutions that alleviate the anxiety consumers face as they increasingly rely on e-commerce options for convenience and safety, and it's as easy as paying with one's covered Mastercard. Issuers can offer cardholders coverage for their online purchases with an e-commerce insurance plan that covers goods purchased online that aren't delivered or arrive damaged, while purchase protection protects against theft or damage for up to 90 days from the date of purchase. Rest assured, that flat screen TV ordered online can be covered during and after delivery.
Consumers may also benefit from extended warranty, which can double the original manufacturer's warranty and/or a store/brand purchased warranty, and price protection that can reimburse the cardholder for a price difference if a lower price is found.  
These products not only help to alleviate overall anxiety about making online purchases, but also protect some of the higher-priced items consumers are currently purchasing which takes the guess work out of online shopping.
Everyday Help with the New Normal, No Matter How Complicated
When the spread of the coronavirus forced people to shelter in their homes, many aspects of the new normal were instant unknowns. What is the best way to get groceries delivered? Where can I find resources for home schooling my children? How do I set up a home office?
Mastercard Travel & Lifestyle Services quickly transitioned from helping cardholders with travel excursions to becoming cardholder's phone-a-friend resource. The cardholder service expanded from providing travel, dining and entertainment resources to helping cardholders find the most convenient home delivery services for groceries and other essentials during COVID-19. Cardholders can use the service to find local restaurants offering curbside pick-up or delivery, health and wellness opportunities and virtual entertainment options for themselves and their families.   
Since cardholders may not know that their travel concierge can do more than book excursions, the service has been proactively reaching out to cardholders to check on their well-being and let them know how the service can help during these unprecedented times. For example, the service recently helped a cardholder who was worried that his elderly parents in Mexico City would be unable to obtain groceries and supplies. The representative connected the cardholder with a service near his parents and set up the first delivery.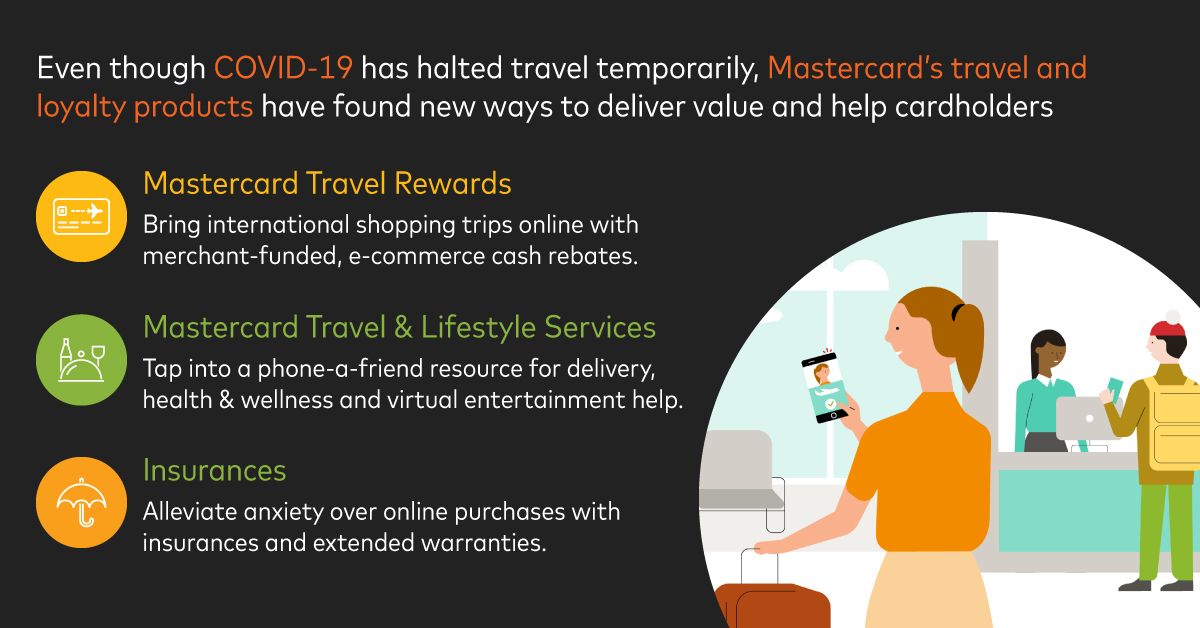 We know it's also important for issuers to engage with their cardholders during this time, too. To facilitate this, we have developed turnkey communications materials and email templates to help issuers drive awareness of the service, while allowing them to connect with cardholders with useful and relevant content.
The benefits of the service will continue to adapt to the various phases of the pandemic, even as cardholders become comfortable again with international travel.
And travel again, we will. There's no question that life has changed for most of the world. We've all had to adjust to the changes brought on by COVID-19. Our international shopping trips are now online; travel insurance is now ecommerce insurance; and our travel concierge is now helping solve all kinds of challenges. And the joys of visiting friends and family and eventually discovering new parts of the world will return, along with more Mastercard solutions that will make travel all the more memorable and enjoyable.
To learn more about how Mastercard is continuing to bring value to issuers and their cardholders as they adapt to the new normal of travel, please reach out to your Mastercard representative.