August 10, 2023
Asia Pacific is home to leading organizations seeking new ways to deliver value and grow their loyalty programs to meet — and exceed — customers' expectations.
Retailers face a proliferation of loyalty programs that has companies all chasing a share of consumer attention. Both banks and retailers grapple with the diminishing value of existing programs and the growing expense of maintaining them. While the traditional closed-loop, points-style loyalty program is well established, leading loyalty executives in Asia Pacific are examining the strategies that served them well in the past. Will they be robust enough to engage consumers in the new digital age?
Enter the loyalty open-loop ecosystem. This next gen loyalty construct is on the minds of loyalty executives as we look to 2023 and beyond. In this report, we'll examine loyalty ecosystem basics and how they're being used by many leading companies today. We'll explore these questions and more:
What are some of the challenges that Asia Pacific-based loyalty executives are facing in their programs?

What direction are loyalty executives taking in search of future-proof solutions?

How are loyalty executives using ecosystems, and how might you use them in the future?
What is a loyalty ecosystem? A loyalty ecosystem is a network of organizations that enables consumers to earn points at one organization and use them at another.
For example, a fuel chain might open their loyalty program so members can also redeem points at a grocery chain partner. A loyalty ecosystem is not a traditional coalition loyalty model and while the two models might appear similar, they differ in their approach.
In a coalition loyalty model, complementary businesses team up under one program umbrella. By contrast, a loyalty ecosystem originates with one standalone business that gradually opens up its loyalty program for cooperation with other programs.
Today, loyalty ecosystems that originate with one business can grow to encompass a wide range of businesses, including pharmacies, supermarkets, home goods and home improvement stores, department stores, insurance providers, rental car companies, streaming services, airlines, travel aggregators and restaurants. Shoppers joining the loyalty ecosystem earn points when they book travel, eat at a restaurant chain in the airport, and then hire a rental car to drive to their hotel, where they earn more points.
By contrast, a loyalty ecosystem originates with one standalone business that gradually opens up its loyalty program for cooperation with other programs.
Understanding varying challenges across Asia Pacific
Because Asia Pacific includes markets at different stages on the maturity curve, the challenges vary greatly by country. Markets like Australia, Hong Kong, Japan, Singapore and South Korea are highly mature; loyalty programs in these markets are well established and customers expect to extract meaningful value from them, but these loyalty programs face the challenge of continuing engagement among an expectant, and sometimes jaded, value-hungry consumer.
Emerging markets like China, Vietnam, Thailand, Indonesia, Philippines and India present an opportunity to capitalize on the appetite for renewed loyalty and engagement, away from traditional heavy discounting, among the burgeoning middle classes.1 Earning value through loyalty programs in these developing markets is a newer concept to consumers, who are likely to view rewards points positively, as something aspirational that conveys the status they're seeking.
Introducing the loyalty ecosystem
Open ecosystem loyalty programs are only a small percentage of all loyalty programs, but as more consumers come to expect an engaging, immersive experience from their favorite brands, they are gaining significant momentum.
In a recent Mastercard survey of 150 loyalty executives across Asia Pacific, 75% said their loyalty strategy is more points per spend. But when asked what their vision for a customer loyalty program of the future was, ecosystem-enabled loyalty (35%) is the top-ranked program that respondents expect to see in 2022 and beyond.2
When asked what a successful loyalty program of the future would look like, the top choice was 'ecosystem enabled.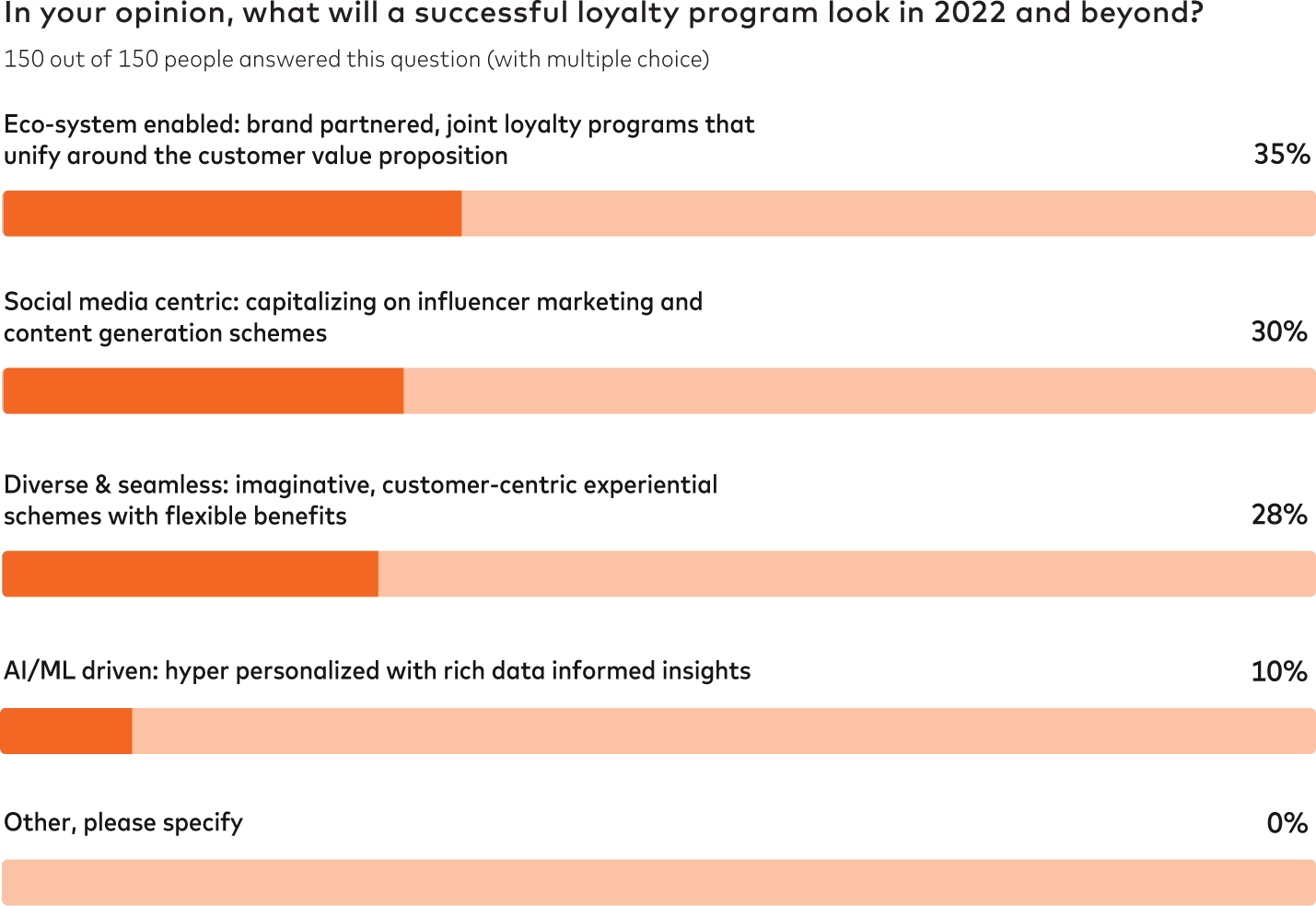 The loyalty strategies which served organizations in the past are no longer relevant enough to encourage today's consumers to engage.
Organizations are interested in creating ecosystems that unify around a customer value proposition and the rise of application programing interfaces (APIs) has enabled companies to link to an ecosystem with greater ease.
"Opening the loop requires opening your thinking," says Chen Peng, Vice President of Mastercard Data and Services in Singapore. "The future looks like a quiet coalition of banks and hotels and airlines all exchanging value."
Consumers now expect businesses to understand their needs and unique contexts across every channel, and businesses are leading the way as they rethink what loyalty means for the company and its customers. Forward-looking loyalty executives are opening the closed loop of their traditional loyalty programs to create brand ecosystems. Customer loyalty is pivotal to the success of businesses over the long term, and those who adapt now will gain first-mover advantage.
Customer loyalty is pivotal to the success of businesses over the long term, and those who adapt now will gain first-mover advantage.
Loyalty ecosystems have their origins in the ever-evolving effort to build a lasting relationship with consumers, something that's become increasingly challenging against the backdrop of a noisy digital world. While there is nothing new about a standard earn-and-burn loyalty program, what's changed is the number of loyalty programs competing for the consumer's attention.
A landmark survey commissioned by Mastercard in 2018 surveyed 7,000 loyalty program executives across seven countries and detailed just how hotly contested and extremely crowded the Asia Pacific market was, with many players competing for share in a consumer's wallet. The merchant community is growing more open to moving their benefits into more programs with the growing realization that giving customers the flexibility of where they can spend their points will be key to maintaining their relevance.
"It's a big change in the narrative of loyalty programs," says Martin Benda, Director of Customer Loyalty Consulting at Mastercard Data and Services in Singapore. "Merchants are accustomed to that money coming back into stores 100%. But if merchants don't change, they'll be less relevant because there are too many similar loyalty programs around."
In 2022, Mastercard commissioned a survey of 150 senior leaders across Asia Pacific, including four regions: Southeast Asia, Australia and New Zealand, North Asia and South Asia. The survey provides insights into the trends, technology and architecture of today's loyalty programs. It also provides key insights into how companies can develop their loyalty strategies for a better customer experience.3 Respondents reported that loyalty was a vital component to their organization's total sales.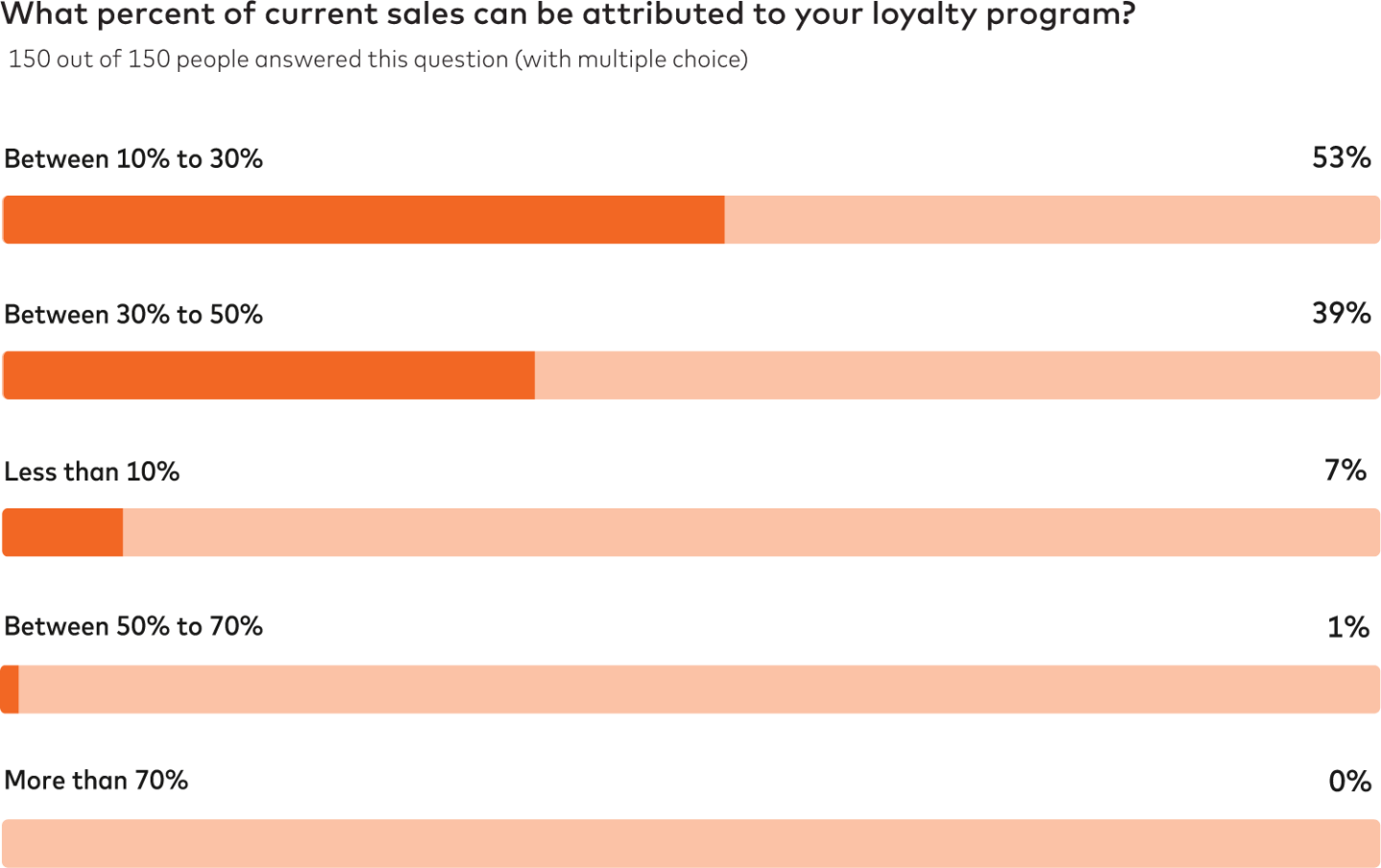 And most respondents reported running programs that are stable or have high engagement rates.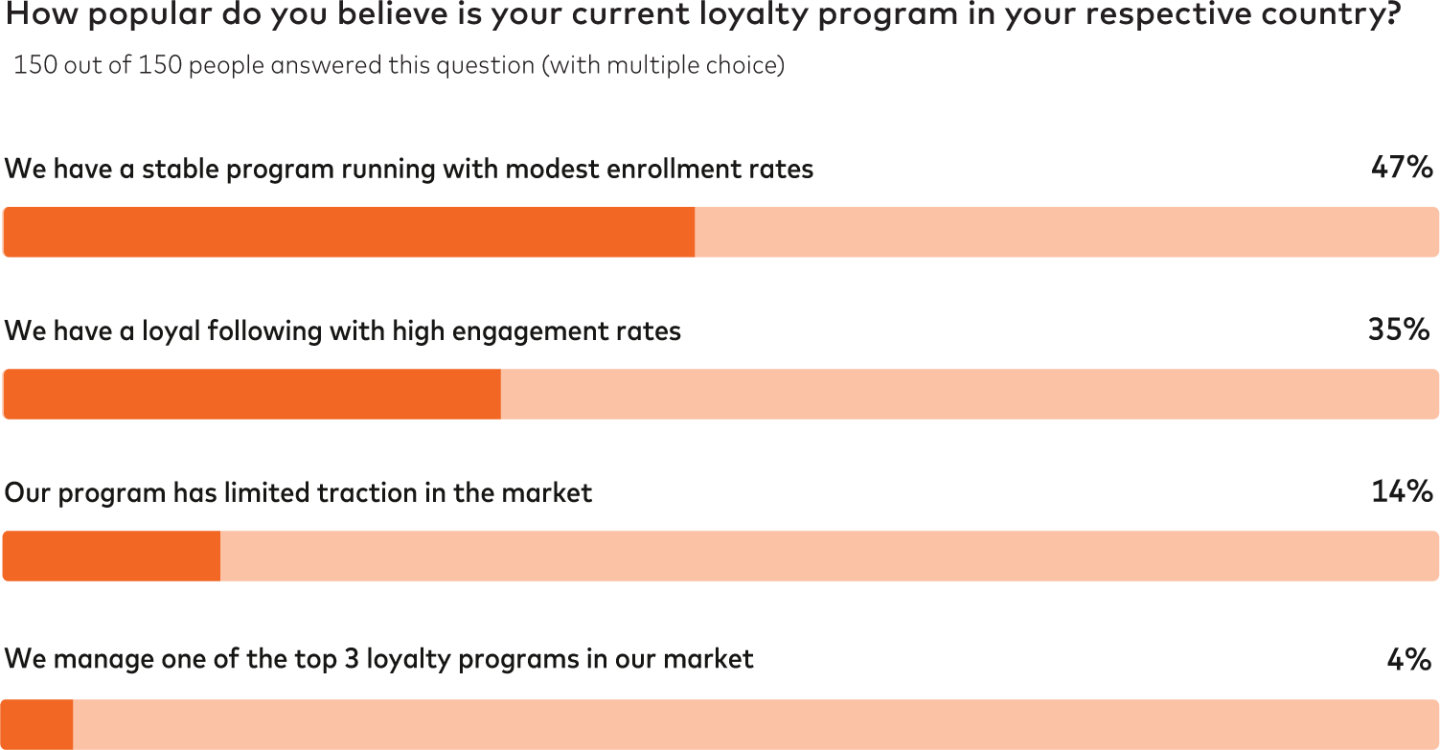 When it came to their current plans for investment, notably, some 28% of respondents said they plan to increase their investment in partnership/ecosystem development and another 16% in ecosystem participation, for a total of 44%. When asked about what strategies represent the top loyalty initiatives in their markets, the respondents identified two key trends: digital-first loyalty initiatives and partnership-based plans.4 One Mastercard customer is excelling at both.
Customer story
Southeast Asia retailer
How do you evolve from a points-based loyalty system to a leading digital lifestyle and loyalty platform?
That's the question that faced one of Southeast Asia's largest retailers. Established as a membership program in the early 2000s, the loyalty program already had a large member base in which customers could earn and redeem points.
However, the program had limitations and could not engage customers on an individual level. Mastercard worked with the client to launch a lifestyle platform offering its millions of members a personalized experience through the mobile application. An engaging gamification board anchors the experience with visible results in shaping consumer behavior and driving sales to participating brands. Today, the program includes more than 2,000 brands with loyalty, payment and retail offers consolidated into a single mobile experience.
"Opening the loop is about earn and burn and the customer experience," says Mastercard's Chen Peng. "On the earn side, everyone wants to join in. On the redemption side, it's a bigger ask of a company to embrace the ecosystem. While the customer wants more places to redeem their points, companies can be reluctant to see points going out of their store." Chen Peng adds that ensuring that the points revenue is justified for the technology integration required is also important. A café with two locations might not make sense as a loyalty partner, for example.
Working with the retailer, Mastercard planned a three-phase approach in which they defined the target customer experience, built the backend technology backbone and scaled up hyper-personalization via gamification. The result is a highly gamified digital engagement program that customers in Asia Pacific use daily.
One year after the program relaunch, there was 15% more spend from participants compared to 2020 and a 60% increase in app engagement. The project drove an increase in mobile application downloads by 147% and a 100% increase in monthly active users.
Goal: Move from a points-based loyalty system to a digital lifestyle and loyalty platform.
Strategy: Define target customer experience, build backend technology backbone and scale up hyper-personalization through gamification.
Result: In one year, 15% increase in incremental spend and more than 100% increase in mobile engagement.
Customer story
Leading telecommunications company in Asia Pacific
Retaining, rewarding and recognizing customers
A leading telecommunications and technology company came to Mastercard as they were designing their loyalty program. The company was looking for a quick-to-market, robust customer proposition and a refreshed approach to recognizing their customers.
Their loyalty program now has over five million customers, including a customer segment of small and medium businesses who have been included within the programs ecosystem for mutual benefit. The company wanted to show appreciation for that customer segment while driving loyalty and retention more broadly.
The company hit upon the idea of opening the loyalty loop to their SMB base by offering SMBs the opportunity to communicate with the telecom company's consumer customers via their app. Mastercard consulted them on a card-linked offer program to connect consumer spend with points rewards with the objective of empowering SMBs to feature in the digital platform that houses the rewards program.
Given the need for a quick-to-market customer proposition, Mastercard provisioned Mastercard Rewards System (MRS) as the points engine underlying the program with supporting APIs - achieving launch in record time for a program of this scale within the company.
"We were able to partner in and energize the loyalty ecosystem to be more than the sum of its parts," says Luke Russell, Director, Mastercard Data and Services in Sydney. "Mastercard brought stability and scalability to the core loyalty platform and helped the company develop something that would have taken years to accomplish in house."
Customer story
Leading shopping center in Singapore
Opening the loop to an array of assets
When the owner of one of the largest shopping centers in Singapore came to Mastercard, they ran an established loyalty proposition, but they wanted to challenge themselves to ask: What's next? How can we create a truly differentiated customer experience and give more value to our customers?
They asked Mastercard to create a strategy for the next version of their loyalty program, beyond what they already had, so their program for patrons of their Singapore shopping center would be more relevant and personalized. As a shopping center owner and operator, the company's challenge was to incentivize shoppers to come to the shopping center, to increase traffic in the shopping center and ensure that the shopping center would stay relevant and top-of-mind with shoppers.
Mastercard recommended a points-based program with tiers to reward customers in line with their revenue contribution, a mix of service and experiential benefits to drive engagement and a breadth of partnerships to enhance rewards and benefits proposition.
"The strategy focused on rewards and how the company could better cater to high-value customers," says Mastercard's Martin Benda. "Because high-value customers tended not to redeem points as frequently as other tiers, the proposed design called for a percentage value accelerator for higher tiers and offered differentiated customer benefits."
Making points more valuable for high-value customers could mean providing opportunities to redeem points beyond the shopping center, including opening the loyalty loop to airline and hotel brands.
As retailers grapple with opening the loop on their own programs, financial institutions stand ready and willing to embrace the change.
Banks are open to points going into their program as well as going out and change will start with retailers being far more open in moving points in and out. Retailers traditionally have been the takers and now it's going back the other way. Banks are ready and willing to talk.
Today, retailers who approach a bank about launching a new co-brand card may find that banks are less responsive. Instead, banks are seeking to create value for customers by opening the loop to exchange points with other retailers — and within the FI or service sector. Banks want to recognize customers, and they'll accomplish that through a complex mix of an expanded relationship internally with their own divisions and third-party merchant partnerships.
Banks have always generated and paid points and historically, the biggest generators of points have been credit cards. A significant portion of an airline's points come from cards, for example. As banks ramp up their own loyalty programs rather than relying on cards as the source of funds, bank loyalty programs will become more valuable.
Banks are open to points going into their program as well as going out.
To avoid being disintermediated, banks will work to create value for customers, creating customer-centric loyalty programs. For example, an offer of a matched tier level on a popular fashion brand might encourage a bank customer to apply for a bank debit card. Or, a bank might offer a customer 1,000 points on a credit card when they join a supermarket loyalty program.
These tactics can help ensure that the loyalty effect stacks up for customers, creating greater value. For example, a bank customer might choose to take out a debit card because of an offer of a matched-tier level on a favorite fashion brand. These tactics can help ensure that the loyalty effect stacks up for customers, creating greater value.
Advancing technology has enabled banks to connect more broadly into an ecosystem, and APIs have brought ecosystems together. Points transfers between partners have been happening over a number of years as banks strive to capture the broader merchant ecosystem.
Traditionally, banks would fund the points and the partnerships would add incremental value. Today, banks might seek to provide a status match on a hotel group or another loyalty program.
Simply connecting to other loyalty partners isn't enough to create a successful loyalty ecosystem.
A loyalty program is a complex mechanism and knowing how to collect, manage and automate data collection and usage is critical to building a winning value proposition.
In the recent Mastercard survey, respondents reported that there are two aspects of loyalty programs that stand out in the way they are managed: first, in-house-run strategy, design and benchmarking (58% in house) and second, advanced analytics and data technologies (49% outsource/buy).
There is increasing interest in taking a hybrid approach in which external loyalty experts are brought in to work with in-house loyalty team members for loyalty strategy and design. Loyalty stakeholders can benefit from an outside-in perspective based on leading loyalty examples observed across various industries.
Mastercard offers professional advisory focused on emerging loyalty trends, evolving engagement mechanics, gamification of user behavior, using card insight to inform value constructs and partnerships, designing new user experiences and building differentiated benefits. These are all areas where loyalty executives can extract more value for their loyalty programs and their customers, and where Mastercard, as a leading loyalty consulting provider, can provide insights, strategies and support.
When it comes to capturing the loyalty of customers, brands are managing various aspects of their loyalty programs either in house, through outsourcing or buying services via a hybrid approach. Advanced analytics technologies is one area where brands choose outsourcing, and 49% of survey respondents said they outsource or buy these services. Another 24% reported they take a hybrid approach while 26% say they manage these technologies in house.
When looking to use the data they gather to deliver unique loyalty experiences and customized offers, brands might seek help in making sense of the data, gathering insights and then creating actionable recommendations. With that information in hand, leading brands can then build a 360-degree view of the customer that updates based on real-time actions. The brand can then deliver customized rewards and experiences with the goal of changing behaviors and encouraging loyalty from their customers.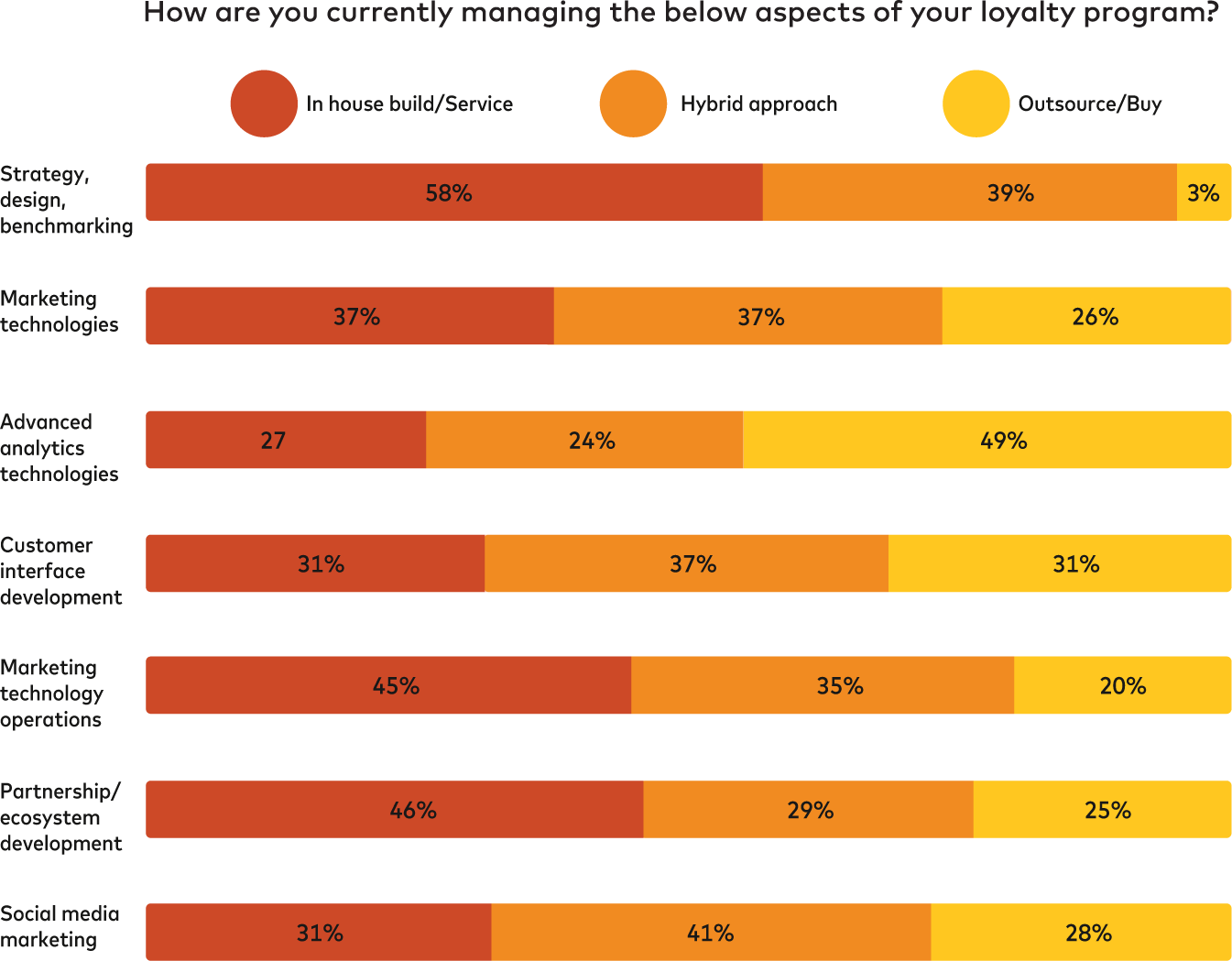 All things considered, "Loyalty is a specialist area and it's significantly changing with a big transition from old to new," says Chen Peng. "Are points programs going out of fashion? How do we talk to customers entirely through the app? It's a journey. Loyalty is not a "sit and forget," it's an ongoing, always evolving relationship with customers."
To learn more about how Mastercard works with organizations on loyalty ecosystems, request a demo or reach out to your Mastercard representative.
1  Loyalty-Solutions-Whitepaper.-AP-Region-20171.pdf (mastercard.com).
2 In Q1 of 2022, Mastercard commissioned a survey titled, "Designing Next-Gen Loyalty Programs" from WBR Insights. WBR Insights surveyed 150 senior leaders (ranging from CMO to Head of Loyalty) responsible for their company's loyalty programs. The survey took place across industries: retail, conglomerates, quick service restaurants, Fuel Conveniences/Retailers, telco, airlines, and banks to discover what initiatives and innovative solutions they are putting in place as part of their loyalty strategy.
3 "Designing Next-Gen Loyalty Programs," 2022 Mastercard-commissioned survey.
4 "Designing Next-Gen Loyalty Programs," 2022 Mastercard-commissioned survey.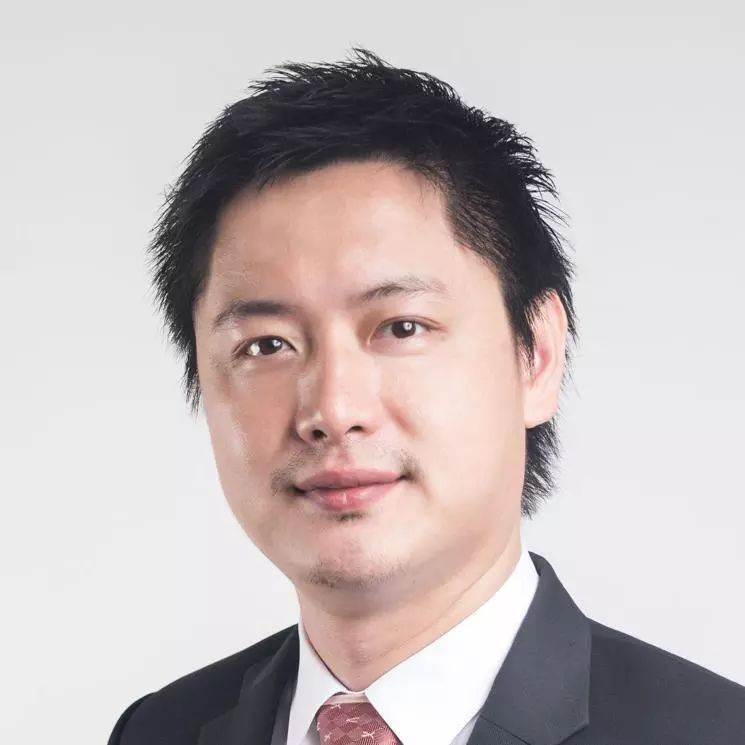 Chen Peng
Vice President, Mastercard Data & Services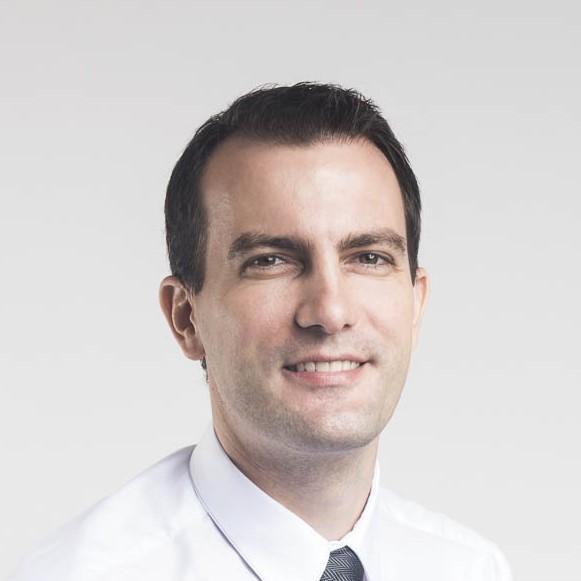 Martin Benda
Director, Mastercard Data & Services