May 25, 2023
 
For today's traveler, the economy's mixed signals create a complex backdrop for leisure and business travel, shaping travel preferences and spending habits for the remainder of the year. But there is resilience and strength in travel demand globally. Leisure travel from Europe, North America, Latin America and the Middle East remain robust, while flight bookings in Asia Pacific, where travelers' have nearly three years of pent-up demand, are surging.
The Mastercard Economic Institute's fourth-annual travel report, Travel Industry Trends 2023, explores key themes facing the travel recovery in 2023 and beyond. Below, we highlight today's travel-related decisions related to destinations and corridors, business travel and tourist spending in Asia Pacific.
31%+
The increase of global leisure travel bookings at the end of March 2023 compared to March 2019
Factors that contribute to the evolving economic and travel landscape:
The tightening of credit lending conditions
New travel rules and routes
Consumer preference for experience over things
Mainland China's reopening
Mainland China reopening holds significant implications for the global travel industry
Mainland China's reopening could provide a much-needed boost to global growth. As the country reopens, luxury travel experiences will likely captivate tourists from mainland China who have been unable to enjoy the experience economy in a zero-Covid regulatory environment. We also expect to see the spending recovery on experiences outperform things.
Many countries are expected to benefit from mainland China's reopening, including:
Demand for essentials will likely shift towards discretionary services like:
Asia Pacific travelers are creating diverse opportunities
Emerging travel corridors are fueled by regional economic trends and numbers show that Northeast Asia is back in business. Hong Kong and Japan are regaining footing in the Top 5 for Asia Pacific travelers, while India, Australia and New Zealand anticipate a more moderate expansion.
In early 2023, Hong Kong emerges as a top 3 destination while The United States and Australia remain a favorite in the spring and summer time. Pent-up travel demand will also drive strong tailwinds for domestic travel recovery.
Leisure flight bookings in Hong Kong were up 52% in March 2023 compared to March 2019

Leisure flight bookings in Singapore were up 118% in March 2023 compared to March 2019

Leisure flight bookings in the Philippines were up 27% in March 2023 compared to March 2019

Business travel is recovering in Asia Pacific
Due to remote work and the uncertain macroeconomic environment, the recovery of business travel lags in comparison to leisure travel. Despite these challenges, demand for in-person business meetings remains robust with commercial flight bookings well above pre-pandemic levels. Asia Pacific leads the world in corporate travel & entertainment recovery.
Countries with a greater office presence outperform their work from home counterparts in commercial flight bookings by a wide margin.
64%+
The growth in the number of commercial travel & entertainment related expenses between January 2023 and March 2023
The Asia Pacific region looks to follow the rest of the world in experience-driven spending
Globally, a notable shift in preference emerged following the Covid-19 lockdowns, with travelers increasingly valuing experiences like tourism over material possessions. With the Asia Pacific region reopening, the big question is whether we will see a similar shift in spending preferences towards experiences for travelers who traditionally spent more on things.
Despite Hong Kong being a top destination within Asia Pacific, it's still below its 2019 levels for spending on experiences and things. Experiences are 27% below the same time in 2019, while things are 22% behind.
Tourism spending on experiences and things have recovered nearly on par with each other in major Asia Pacific locations in March 2023: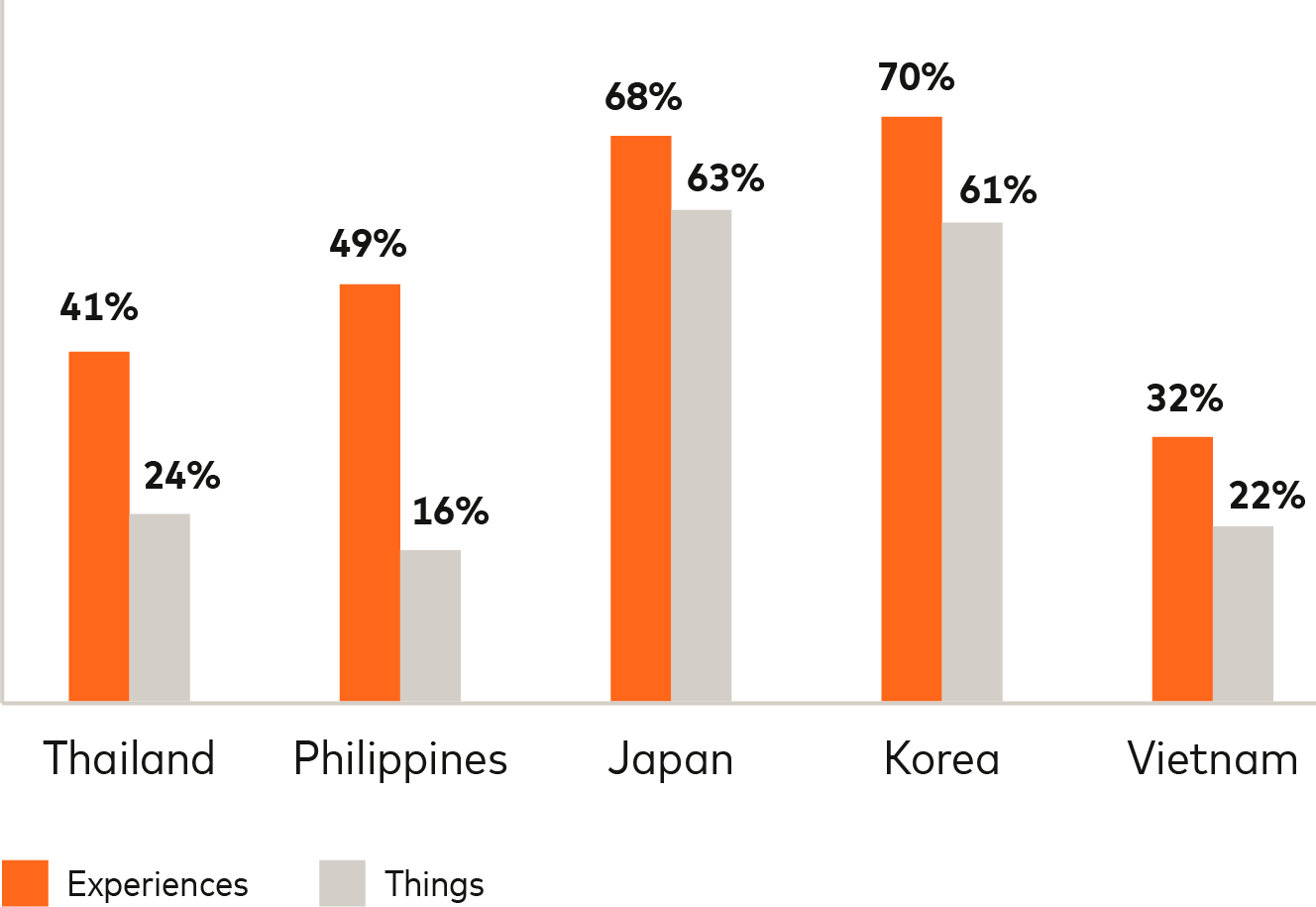 For an in-depth look and to learn more about the current state of global travel, click here to get access to Travel Industry Trends 2023.