How Mastercard Labs as a Service Delivers Next-Generation Experiences
"If the rate of change on the outside exceeds the rate of change on the inside, the end is in sight."
This quote — from Jack Welch, the former CEO of General Electric — perfectly summarizes the challenges facing businesses seeking to remain relevant in a world that is evolving astonishingly quickly.
However, wanting to change and doing so are two very different things, and an outside perspective is often necessary to help shake things up.
At Mastercard, we rely on Mastercard Labs—our center for research and development—to help realize our most innovative ideas. Recognizing the value that Mastercard Labs has on improving our own business, we began working with our business partners through Mastercard Labs as a Service, a part of Data & Services.
This business unit acts as a trusted collaborator that solicits voice-of-the-customer problem statements and helps unlock the potential of our partners' businesses. We do this by bringing together a team of experts to kick-start innovation, accelerate product development and help bring a new product to market.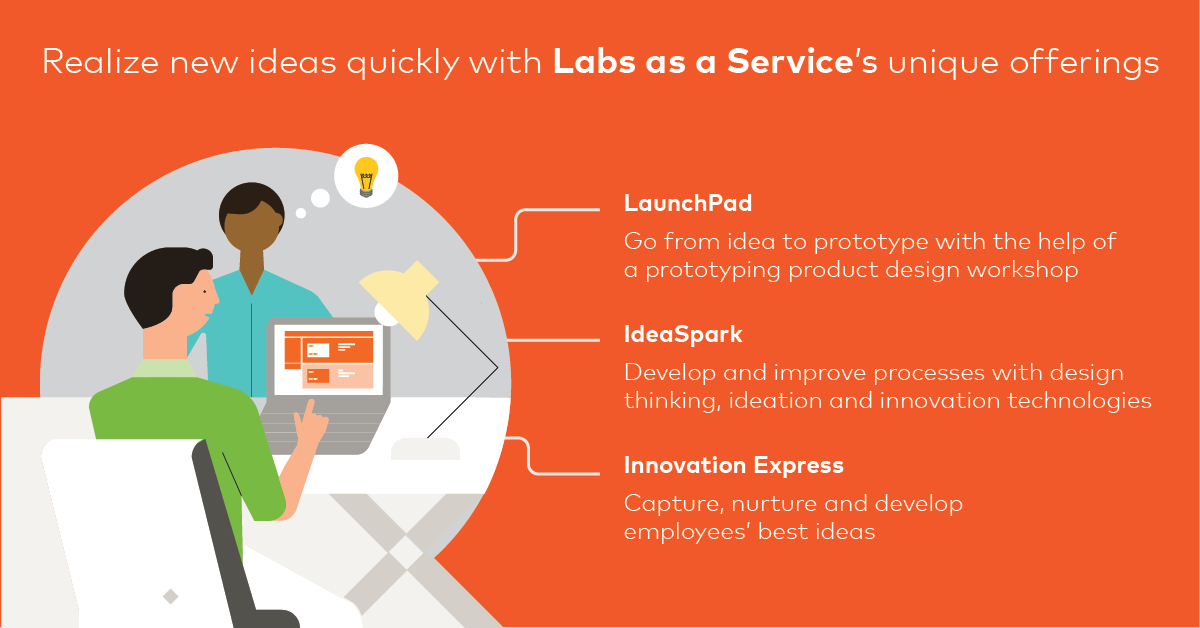 A Digital Transformation Roadmap
The bigger the company, the harder it can be to inspire change because the change affects more people, and the risks are often more significant. Older businesses are often the hardest to change, especially if the leaders are resistant to trying something new. Before innovation can happen, companies must want to innovate.
But even if a company is ready, successful change is nearly impossible without a clear vision and strategy. Companies making the most of the digital revolution understand what their customers need and have a clear path to reach that goal.
Developing this clear vision is a challenge for many companies, but with Labs as a Service, organizations no longer have to make that journey on their own. Labs as a Service has been helping companies innovate since its launch in 2015, with clients spanning from global issuers and acquirers to merchants and airlines.
By connecting businesses with experts in design, engineering, software development and videography, Mastercard Labs as a Service can help quickly make new ideas a reality, using a unique range of offerings.
LaunchPad
Procrastination can limit innovation, which led Mastercard to develop LaunchPad, a product design workshop that gets customers from idea to prototype in just five days.
A cross-functional team of experts with solution architecture expertise lets clients focus on a single business challenge and dramatically decrease the time it takes to bring a new product to market.
Through this collaborative process, Mastercard brings together these experts and business leaders looking to innovate to strategize, develop and prototype a product within five days. The projects can span from a digital payment solution and a loyalty-management app to a chatbot and an augmented reality shopping experience.
For companies that find it hard to innovate, Mastercard's experience, expertise and focus on trust can provide a transformation roadmap and help bring a new product to market that might otherwise languish in development.
IdeaSpark
Bringing a product idea to life is challenging, but that's where Mastercard Labs as a Service's IdeaSpark comes in. This two-day program develops and improves products and processes with best-in-class design thinking, ideation and Mastercard innovation technologies.
The results—ranging from an interactive prototype to an architectural wireframe to project plans—can help advance the development lifecycle of a product and help companies bring a new product to market much faster.
The short time frame allows IdeaSpark to help companies that need a solution to a business problem quickly, whether to meet customer demands or to react efficiently to changes in the industry.
Innovation Express
Companies that may be slow to embrace change still have plenty of employees who think digital-first and who have a wealth of untapped ideas for helping the business succeed.
Innovation Express delivers two Mastercard products—the IdeaPortal digital suggestion box and the IdeaBox idea development toolkit—to capture, nurture and develop employees' ideas.
The IdeaPortal suggestions box can be branded and allows employees to not only make suggestions but also to engage with colleagues by voting and commenting on ideas. Administrators can boost engagement by setting fun challenges for employees across the organization who would not otherwise use the platform.
Crowd-sourced employee ideas not only foster teamwork and inclusivity, but it also makes the most of your talent investment.
A Proven Path Towards Innovation
Over the last four years, Mastercard's 300+ engagements have proven that its experts and experience can help companies deliver on their digital transformation roadmap much faster than they otherwise would.
Companies now see the service as an extension of their innovation program. They're leaning on Mastercard's digital-first approach and its focus on innovation, invention and trust to give them an edge in the market.​​​
Ready to learn more about firing up your company's innovation with Mastercard Labs as a Service? Let us tell you more.