Unlock digital access to your card benefits
Today's consumers expect to have every solution at their fingertips. They are more digitally engaged than ever before, and actively seek offerings that will simplify their busy lives. In order to win in this changing environment, issuing banks need to adopt a digital-first mindset.
At Mastercard, we believe that driving long-term loyalty starts with making card benefits, rewards and services more digitally accessible to cardholders. That's why we recently launched a solution that meets the consumer where they are. Loyalty Digital Enabler integrates a suite of card benefits and services into the issuer's mobile banking app through a single entry point, enabling a seamless customer experience.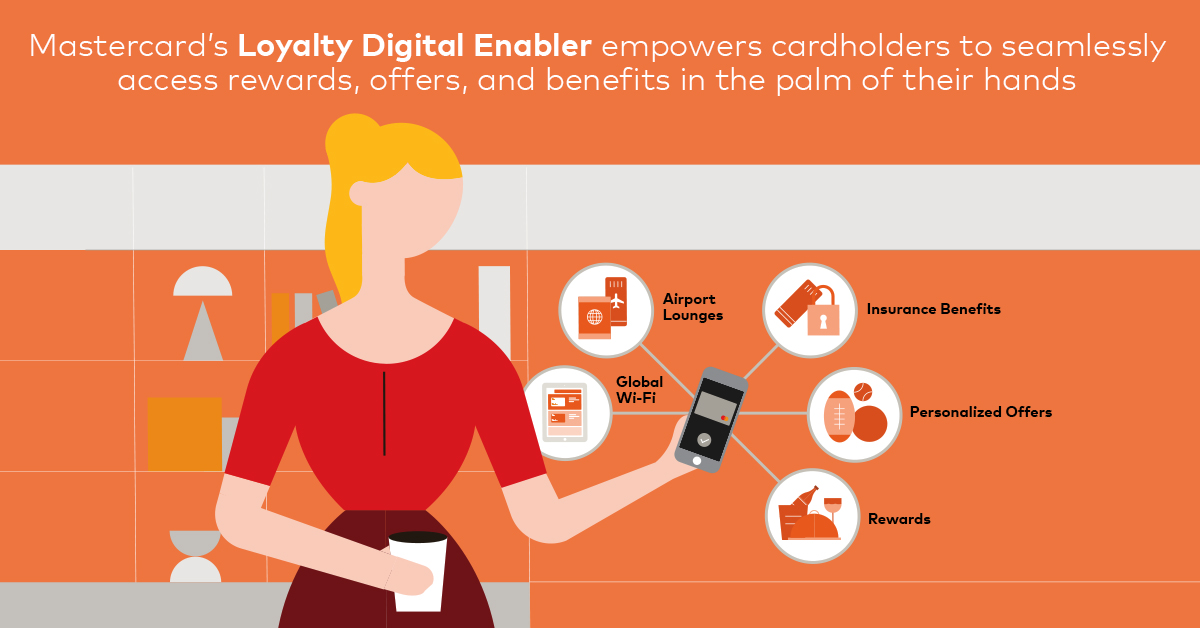 Loyalty made seamless
Most consumers today have no easy way to quickly access all of their card benefits. In fact, many don't even know the full suite of perks that come with their credit card. In our research, Mastercard found that most customers often have to register on 8+ websites and download 3 separate apps to tap into their card benefits. This inconvenience creates friction in the customer experience, reduces benefit redemption, and ultimately leads to lower engagement.
Loyalty Digital Enabler consolidates dozens of APIs into a single integration point that allows issuers to embed multiple card benefits into their mobile banking app. The solution unlocks single-sign-on access for benefits, including:
Mastercard Airport Lounge Solutions: Cardholder entry to over 1,100 airport lounges around the world, changing airport pain-points into enjoyable parts of the journey

Boingo Wi-Fi: Unparalleled access to free Wi-Fi hotspots around the world, delivering convenience and connectivity whether at home or abroad

Insurance Suite: Best-in-class coverage to protect cardholders when they need it most, now including in-app claim submission and status check

Personalized Card-Linked Offers: Targeted offers that automatically give consumers discounts at select brands when they pay with their credit or debit card

Mastercard Pay with Rewards: A digital solution that allows cardholders to use their points like cash at the moment of purchase
These solutions will continue to grow as we make more loyalty benefits and services available through Loyalty Digital Enabler. This simple, lightweight integration allows banks to give their customers instant, easy access to card benefits directly through their mobile banking apps.
A Win-Win Solution for Cardholders and Issuers
The advantages to cardholders are clear. Instead of signing into different apps for each card benefit, consumers now have one place to go to understand and access all of their card perks. This solution creates a simple and seamless digital experience for cardholders, all available through their mobile banking app.
For issuers, offering an improved experience translates directly into increased benefits redemption, more top-of-wallet behavior and long-term cardholder loyalty. While previous solutions required time-consuming integration of multiple services, Mastercard's Loyalty Digital Enabler provides a simple and streamlined process for the issuer to offer a wealth of benefits to cardholders.
Ask Jamie Samaha
Questions on this article? Reach out to Jamie Samaha to learn more about Mastercard Loyalty Solutions.