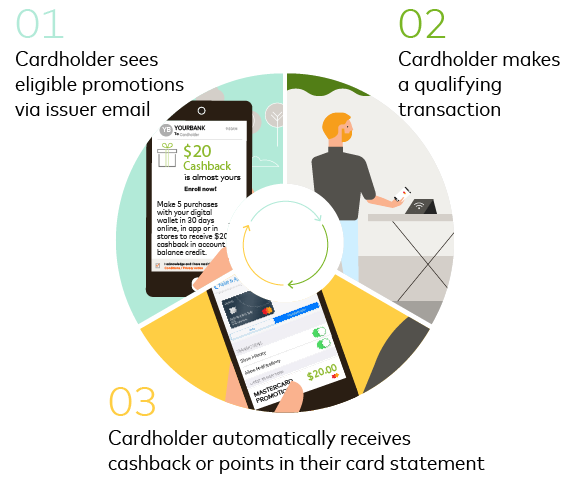 Supercharge cardholder engagement with card-linked cashback and points. Mastercard Promotions lets you set up a promotion in just weeks, no merchant integration required.
Mastercard Promotions offers an easy way to offer consumers card-linked points or cashback. Simply select the promotion rules and the target audience. Then leave the rest to us.
Mastercard Promotions is designed to work for everyone – financial institutions, small businesses, and retailers. Issuers can use promotions to encourage cardholder top-of-wallet preference and spend. Brands can use promotions for acquisition and engagement. 
From 5% cash back on grocery delivery to double points on all contactless transactions, Mastercard Promotions helps companies incentivize spend and grow consumer preference.
Promotions is easy to implement and requires minimal IT effort from issuers and needs no merchant integration. And thanks to built-in reporting, you can optimize your campaign real-time.
Mastercard Promotions is a cashback promotions platform that offers:
Minimal Lift

Simply select the promotion rules and target cardholder audience - no merchant integration required

Speed to Market

Simple setup, maintenance and marketing campaign deployment* within weeks

Analytics and Measurement

Measure results with built-in reporting, and ensure continuous campaign performance improvement*
*Managed Services and Test & Learn™ are priced separately from Mastercard Promotions
Ask Mastercard Data & Services
Would you like to learn more about Promotions and how it can help your business?