Driving Contactless Payment Adoption
Touch-free payment technologies aren't new. Yet, due to the current global health environment, consumers are more rapidly transitioning to contactless payments as they seek touch-free experiences. And in many regions, this is highly encouraged and promoted by merchants.
While 30 percent of payments in 2019 were contactless, the first quarter of 2020 saw over 40% growth in contactless transactions globally, according to Mastercard data. Additionally, in a recent Mastercard global consumer study, 79 percent of respondents worldwide said they were now using contactless payments, citing safety and cleanliness as key drivers. In the grocery and drug store categories alone, contactless transactions grew twice as fast as non-contactless transactions between February and March.
Many markets have reached 90+% contactless adoption. Nearly all world regions experienced significant spikes in contactless usage in February and March, despite being in various stages of contactless deployment and usage for daily shopping habits. Globally, nearly half of respondents in Mastercard's study said they have swapped out their top-of-wallet card for one that offers contactless. 
Mastercard has distilled its experience working with customers and partners worldwide into a formula that supports issuers, merchants and acquirers at each stage of the journey: conversion, activation and usage.
Support Conversion and Activation
When done right, conversion and activation are paired, as a well-executed conversion should generate activation.
From an issuer's perspective, once the decision has been made to roll out contactless payments, the next question is, "How do we accomplish this?" At a macro level, there are three approaches to consider.
First, issuers can take a progressive approach in which cards can be equipped with new technology at renewal. This process often spans two to five years. Second, an issuer may decide on an "in-one-go" method, converting its entire portfolio simultaneously. Lastly, banks can choose to launch contactless for priority segments first in a targeted manner.
Mastercard's Contactless Conversion solution helps issuers take a targeted approach with a launch plan that maximizes cardholder adoption by prioritizing customers who are the most likely to use the payment technology. Contactless becomes a compelling engagement tool to reduce the risk of losing accounts to the competition. It uses Mastercard propensity and AI-based predictive models to identify key customers with a high likelihood of adopting contactless and to predict the impact of contactless on future spend.
Additionally, the issuers' need to deliver a great payment experience for consumers mirrors the need for acquirers to support optimal checkout experiences provided by merchants. Acquirers have an opportunity to guide merchants as they make decisions on point-of-sale (POS) system conversions for their locations. Is it worth migrating all merchants and all stores at once? If not, how are they supposed to prioritize? Are the benefits of accelerating contactless adoption worth the investment?
Mastercard uses market and proprietary data to answer these questions and identify key opportunities across geography, merchant industries and other categories for successful contactless rollouts.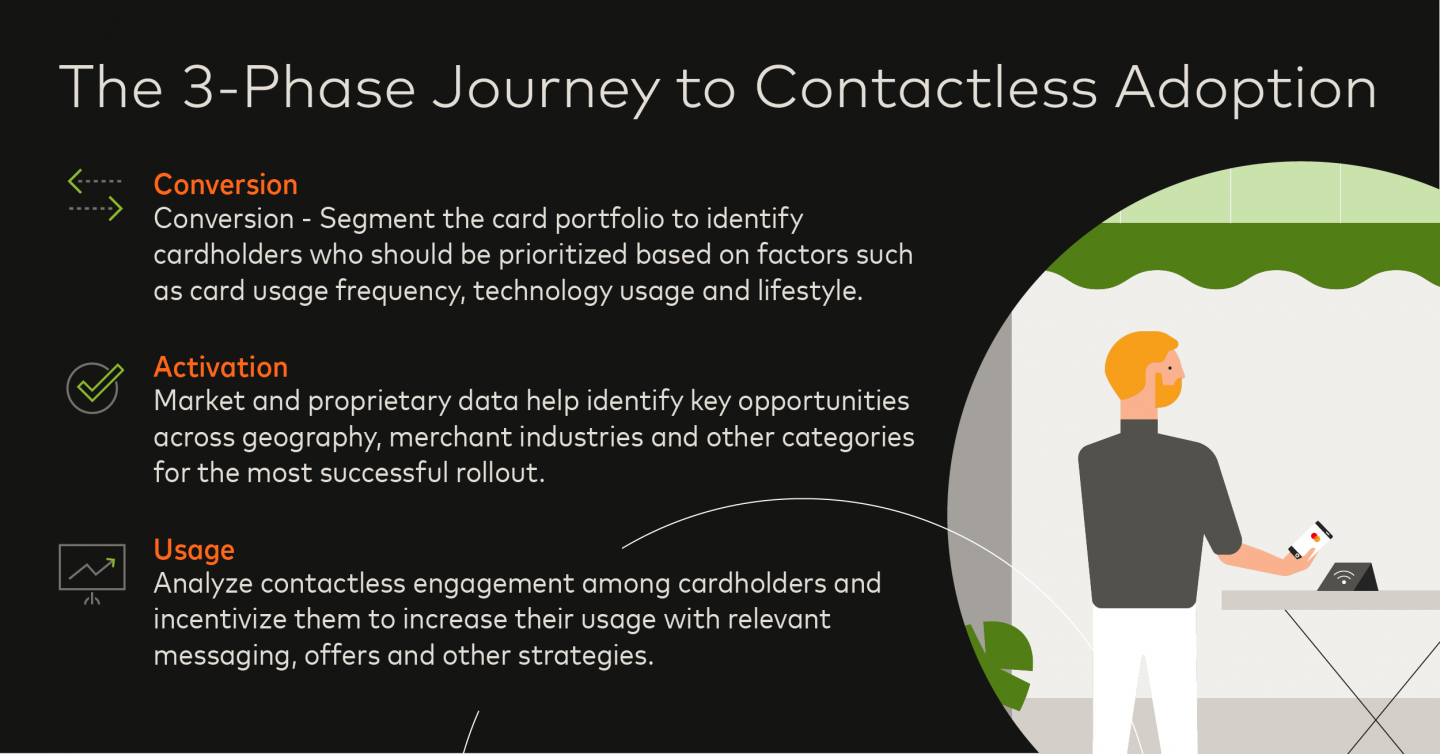 Driving Contactless Usage
Once organizations have achieved conversion and activation of contactless, Mastercard can support issuers and acquirers that want to increase the penetration of contactless transactions through its Contactless Lifecycle Optimization solution.
Mastercard has applied its payments expertise towards developing a framework for segmenting cardholders into distinct tiers of increasing contactless engagement and advancing contactless cardholders through them.
The segmentation model is based on the central observation that consumers increase both spend amount and volume as they make contactless payments across an increasing breadth of merchant categories. Likewise, as cardholders progress through engagement levels, their in-store POS transactions increasingly convert to contactless transactions, reflecting a growing preference for the contactless experience and the associated card.
The key to a successful lifecycle optimization strategy is to identify each cardholder's highest potential engagement level and develop a targeted issuance and communications strategy accordingly. Each cardholder's potential is based on various factors, including their wallet size, volume of in-store transactions, and the breadth of categories for which they use their card.
Mastercard is also tapping into AI-based predictive models to quantify the impact of this optimization strategy on individual cardholder behaviors.
Whether for conversion, activation or optimization, a key element of Mastercard's approach is to leverage its Test & Learn® capabilities, measuring the impact of the defined contactless strategies and identifying the optimal campaign constructs.
Mastercard can help the ecosystem of issuers, merchants and acquirers analyze, optimize and execute contactless acceleration strategies. From differentiating based on consumer and merchant insights to leaning on our expertise in AI and data analytics, businesses can perfect their contactless experience and drive consumer adoption.
Learn more about contactless trends by listening to the on-demand webinar on Effective Strategies to Drive Contactless Adoption.
Audrey Bui Khac is a principal in Mastercard Advisors, Michael Landau is Vice President of Product Management and Berke Baydu is Director of Chip & Contactless.