August 10, 2022
Opportunities for merchants and acquirers
"Cash, check or charge?" It wasn't that long ago that consumers had just these three payment options for purchases. These days, shoppers have a growing number of choices for how they pay for goods and services, in-store and online. And many are taking advantage of one payment option that's expanded quickly over the last few years – buy now, pay later (BNPL).
In a survey conducted by the Mastercard World Payments Advisory of 50,000 consumers in over 50 markets, nearly a quarter of respondents say they've recently used BNPL to make purchases and an additional 14% say they are "very likely" to use it in the next six months. Many are attracted to the quick and easy experience of getting instant approval for installment loans at the point of sale, especially for big-ticket items.
Nearly a quarter of respondents say they've recently used BNPL to make purchases and an additional 14% say they are "very likely" to use it in the next six months.

World Payments Advisory study
But there's also room for improvement, with survey respondents wanting more flexibility, control and transparency. This lends itself to an opportunity for merchants and acquiring banks to capture the BNPL momentum with offerings more fitting to consumer needs.
The Mastercard World Payments Advisory, which conducts quarterly global consumer surveys on key topics, highlighted several trends in its latest report, "The Explosive Growth of Buy Now, Pay Later." The report looks at the countries where consumers plan to use BNPL the most, what kinds of items they're buying, what types of BNPL products they're using and where they'd like to see improvements. Here are a few of the trends relevant to merchants and acquiring banks.
BNPL usage is expected to grow
While nearly a quarter of survey respondents said they've recently used BNPL, an additional 25% said they are "very likely" or "interested" in using BNPL in the next six months. And another 16% said they're interested in learning more about the option. The idea of spreading out payments for a single item has been appealing to those consumers who have used it, especially for bigger-ticket purchases like clothing, consumer electronics, travel and home decor.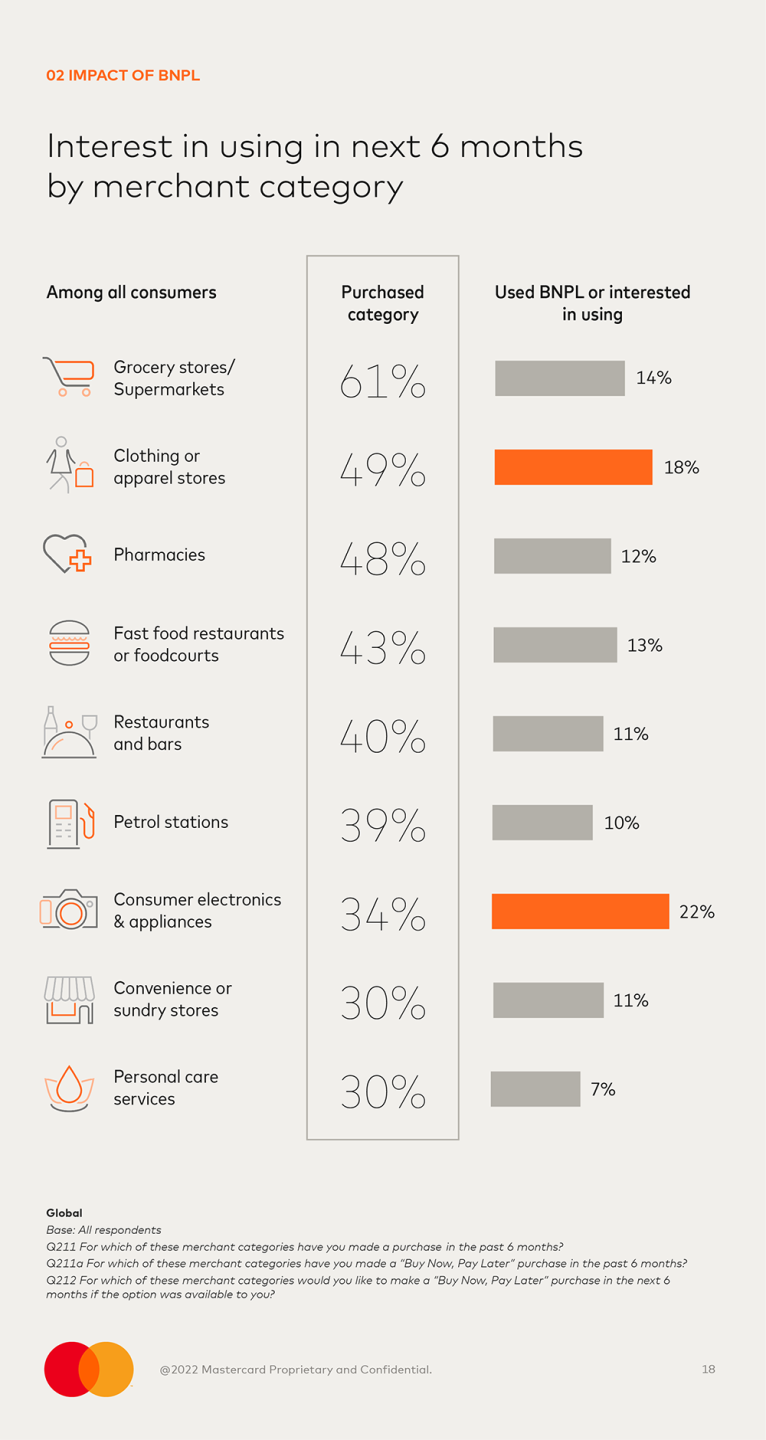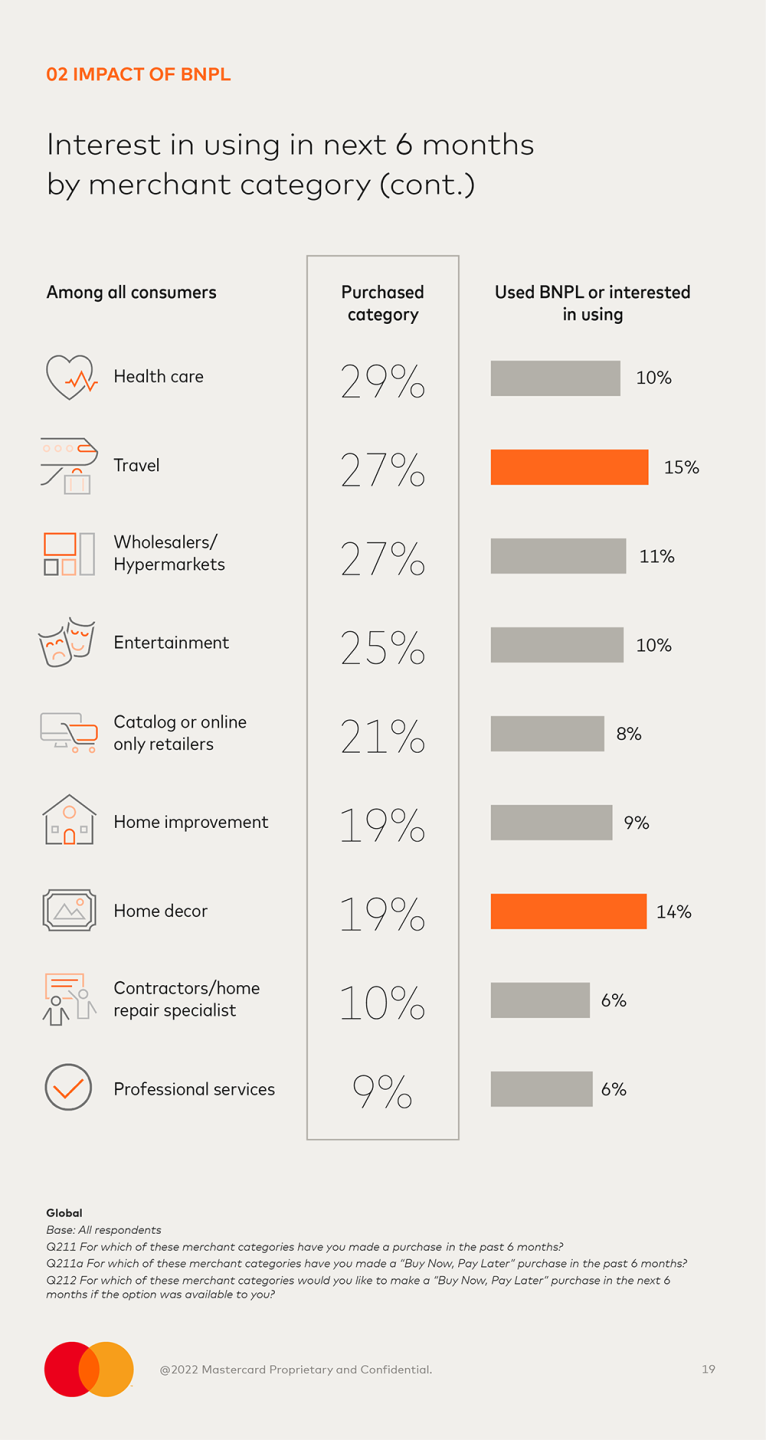 Consumers are increasingly looking at BNPL for "expensive" and "very expensive" items, shifting their mindset since 2021.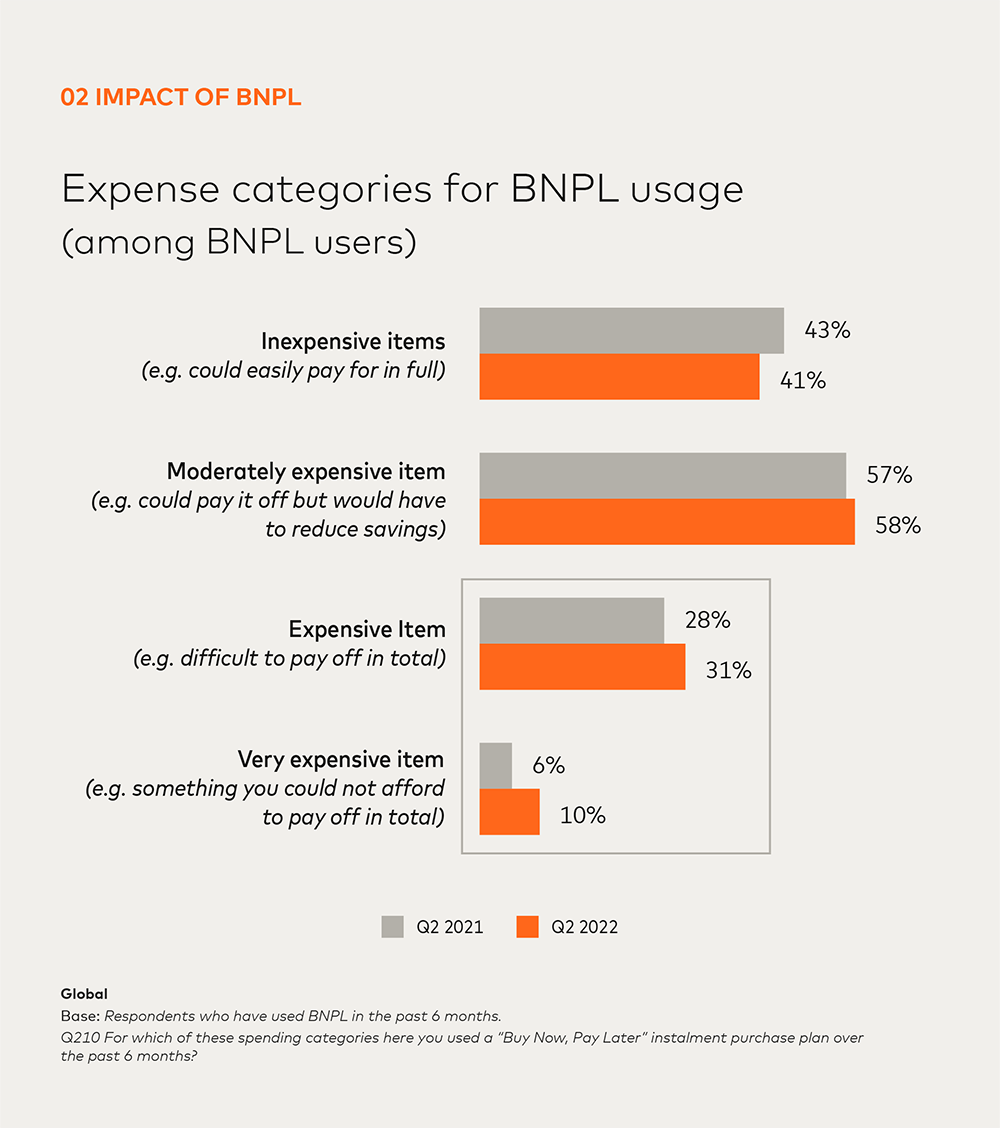 BNPL also contributes to incremental spending as many respondents said they're using the payment option to buy more than they otherwise would have. Nearly 70% of users said they made a purchase because BNPL was offered, and only 32% said they would have delayed the purchase if the payment option had not been offered.
Nearly 70% of users said they made a purchase because BNPL was offered.

World Payments Advisory study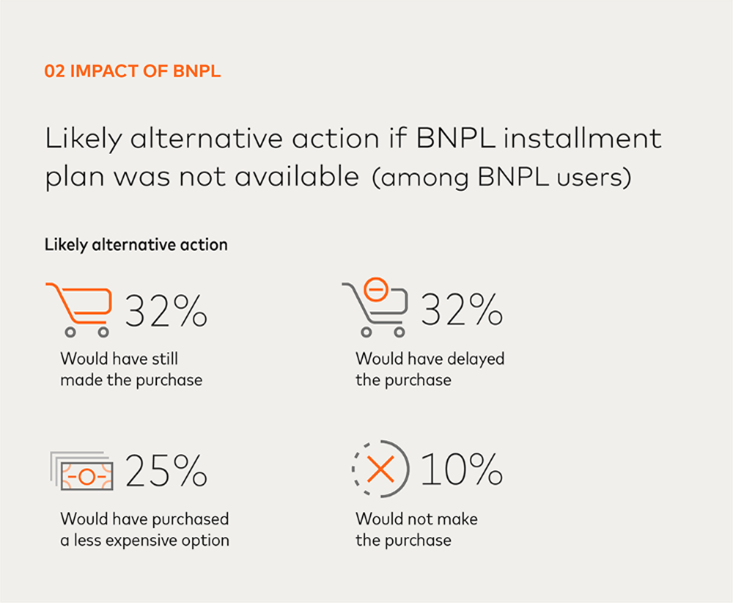 Consumers crave BNPL programs directly from a retailer
A growing number of retailers are starting to offer BNPL directly through various installment options, including Mastercard Installments, which is offered through a banking app that can be used during checkout online or in-store and by using a digital wallet like Apple Pay. In the US, while 21% of consumers have used offerings from BNPL service providers, a near equal number are using or wanting to use an account offered directly by the retailer.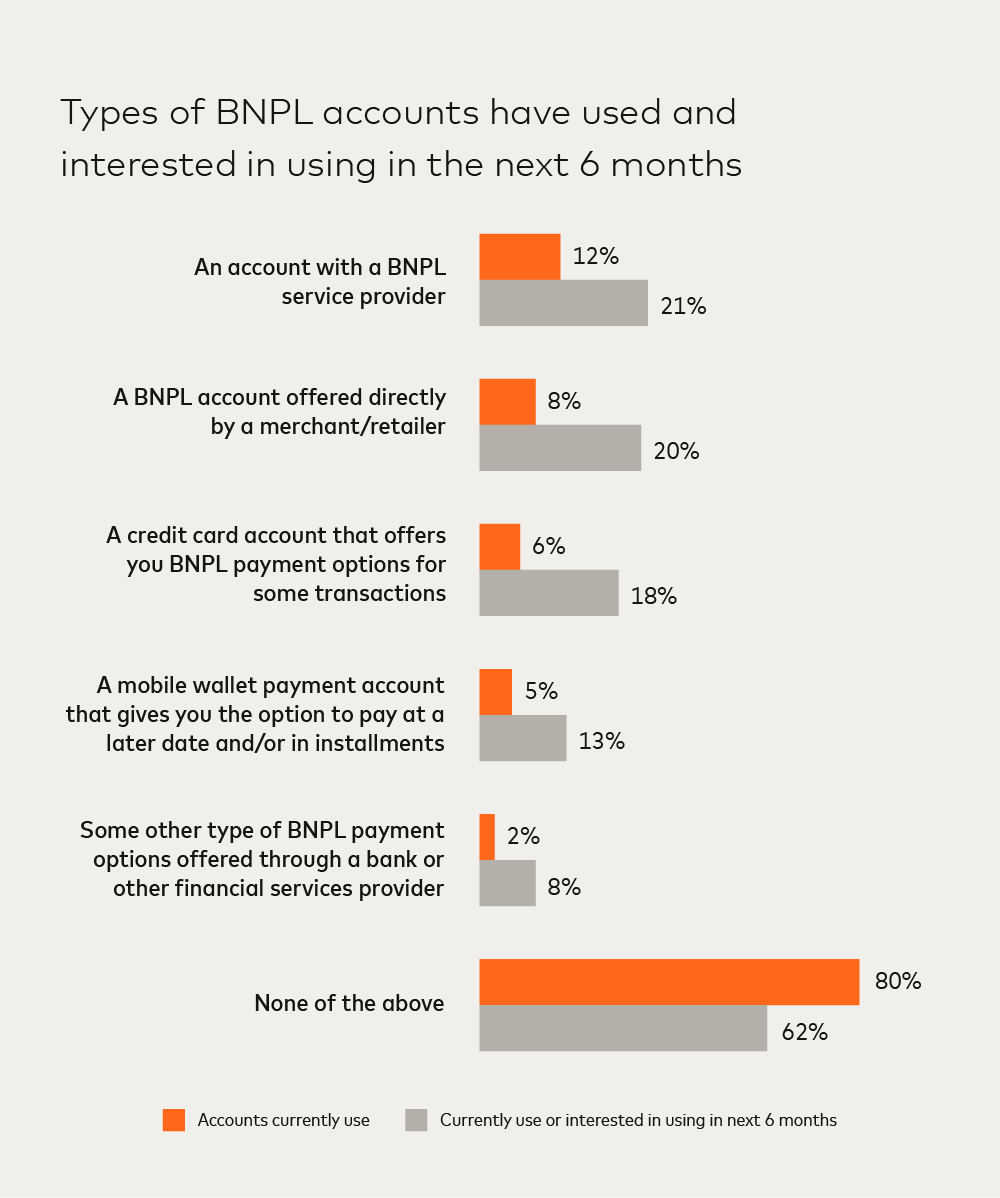 Consumers are motivated by different BNPL features – many that are common among existing product offerings and many that new entrants could introduce. Among the top three drivers for shoppers using BNPL in the future include guaranteed interest-free installment payments, making purchases they can't afford to pay for all at once, and getting the product right away rather than waiting until it's paid off. Other drivers include rewards offers and access to special deals.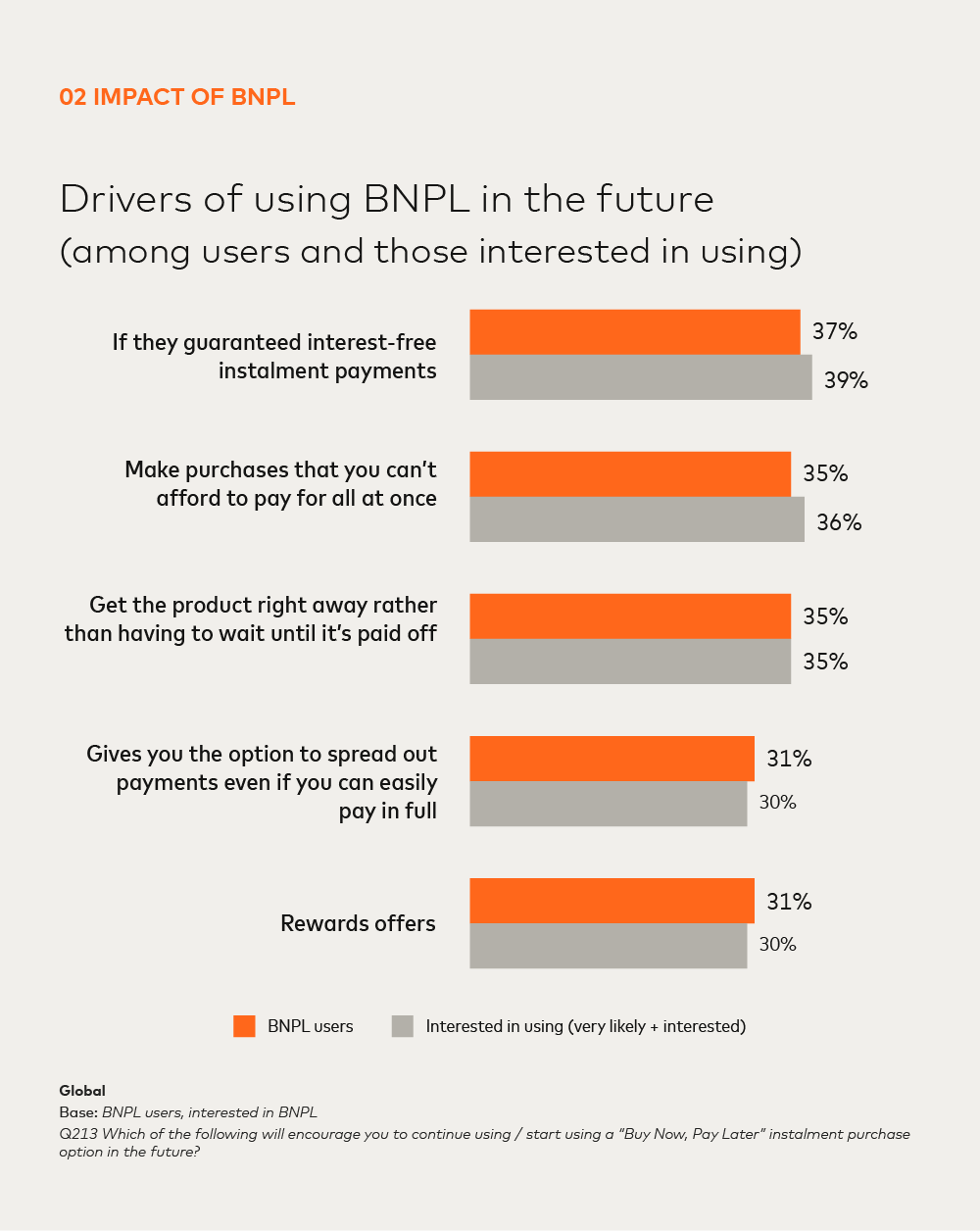 The call to action for merchants and acquiring banks
While BNPL usage is rising, survey respondents say the payment option has brought them unique challenges, with overspending being the most common "pain point." They also have concerns about "hidden" charges, which could be a leading barrier to adoption. This leads to a few considerations for merchants and acquirers:
Consumers want BNPL providers to increase the clarity and transparency of the offer to reduce concerns about "hidden" charges
They want BNPL providers to develop processes to help customers manage their spending and payments
Offerings should also have better rewards or promotions to potentially increase usage of BNPL
The benefit for both retailers and acquirers is incremental spending and the potential to acquire new customers who want to tap into this payment option.
Mastercard Installments speaks to many of these challenges and benefits, including a zero percent interest, pay-in-four model that allows consumers to more effectively budget their payments without additional costs, with enhanced consumer protections and responsible lending practices. For retailers, there is no implementation as this is handled by Mastercard and the acquirer, and it is instantly available across the Mastercard acceptance network.
Learn more about Mastercard's World Payments Advisory and the latest insights on buy now, pay later in key markets. And reach out to your account representative on the best approach for setting up installment offerings that will resonate with consumers.