Wearable Banking: Enabling a Secure and Seamless Customer Experience
Demand for wearables continues to grow as consumers embrace opportunities for faster, more frictionless transactions. As these devices have become increasingly popular, users have come to expect a seamless experience—they want their wearables to house the tools they need to manage not only their fitness efforts and their fashion choices but also their financial lives.
It's not surprising that retail banks are exploring potential uses for wearables in banking — whether that's facilitating transactions and payments or creating entirely new classes of customer experiences. The progression from the investment in smartphone-based services is logical, but unlike smartphones, wearables come in all shapes and sizes.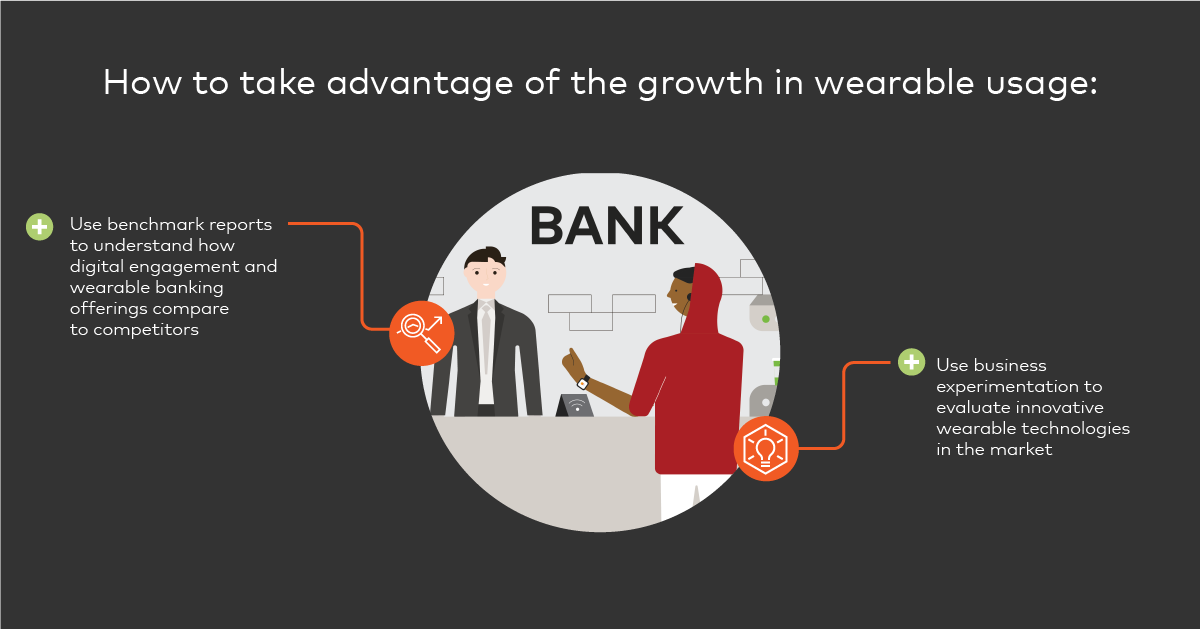 The State of Wearables Today
Approximately 500 million wearables will be sold in 2021, including smartwatches, Bluetooth headsets, fitness devices and headsets for augmented and virtual reality. Smartwatches in particular are showing significant growth and are currently on pace to generate almost a third of total wearable technology sales.
Because of this popularity, smartwatches represent a major opportunity for banks to optimize their investments in wearable tech and appeal to a wide range of customer segments by delivering smartwatch-ready apps to help customers manage their finances more easily.
Wearables can also benefit financial institutions through increased security. Many of these devices use biometric security, in the form of fingerprints or other irreproducible physical signatures, to authenticate each user and reduce the risk of fraud.
The security of wearable banking supports their most important value add: They provide an opportunity to create more digital touch points with customers in order to make their experience frictionless and increase their use of digital banking.
However, it's critical that banks remain strategic about how they invest and innovate to avoid a scattered approach to wearables that might dilute their impact. To ensure R&D dollars are spent wisely, banks need to analyze the market carefully and map a clear trajectory toward optimizing return on investment.
Potential for Expanded Use
The many different types of wearables have created a number of new engagement models. Banks can offer real-time transaction updates, provide balance notifications or let their customers buy and sell stocks by simply tapping their devices.
Given the amount of wearable tech available today, data driven decision-making is key to understanding what banking innovations in wearable tech are worth the investment. Banks should use benchmarking to understand the competitive landscape before diving in. Looking at how a company's digital engagement statistics stack up against competitors can help identify opportunities to invest and improve.
At the same time, benchmarking progress against the financial sector as a whole can help banks guard against under- or over-investment in a particular area. Industry insights will help organizations make data-driven decisions regarding their efforts in wearable technology. For example, what kinds of transactions do different customer segments most frequently carry out on wearable devices? Are there gaps in wearable banking functionality that other financial institutions aren't providing? What's the average rate of adoption of wearable banking apps, so you can understand what constitutes industry-leading performance?
Industry-wide insights on usage based on aggregated, anonymized data can help organizations answer these questions and pinpoint opportunities that others are missing.
Looking to the Future
To make this most of this opportunity, banks should adopt a data-driven approach to making decisions about where to focus and invest, how to navigate regulatory requirements, and which customer cohorts to reach. Once a customer need has been identified, success will come through effective business experimentation, exploring different technologies and uses, and testing wearable products in the market. Insights from those tests can be used to create a positive feedback loop, guiding testing and updates as banks work to perfect their investments in wearables.
Data-driven analysis and strategic decision-making are essential for banks looking to capitalize on the wearables trend. Right now, financial institutions have the opportunity to help usher in the future of banking and redefine the customer experience. Those that wait too long risk playing catch-up instead of leading the charge.
Ask Will Weidman
Questions about the role of wearables in banking? Reach out to Will Weidman to learn more about how Mastercard can help optimize wearable banking investments.