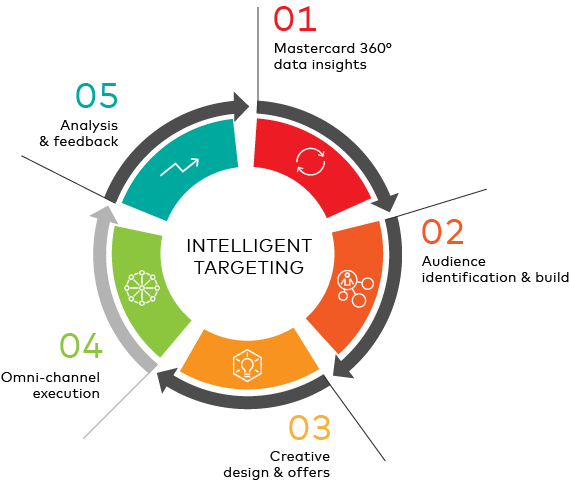 Boost the efficiency, effectiveness and ease of acquisition by leveraging Mastercard insights and expertise to design, execute and optimize acquisition campaigns for high-value customers.
Which traits characterize a brand's most valuable customers—and how can marketers reach similar high-value, potential customers? Which acquisition campaigns perform best? And how can brands personalize campaign creatives and messaging to achieve the highest ROI with different segments?  
Intelligent Targeting answers these critical questions by combining robust data insights and state-of-the-art modeling with a fully-managed approach to tailored acquisition campaigns.
Key benefits of Intelligent Targeting include:
Data-Driven Marketing Products
Access best-in-class Audiences based on anonymized and aggregated Mastercard purchase propensities and customer insights
End-to-End Campaign Management
Rely on Mastercard's extensive marketing expertise, from strategy and segmentation to execution and diagnostics
Professional, Tailored Creatives
Produce more sophisticated, omnichannel campaign content
Measurement and Optimization
Support more accurate go-forward decisions with our proprietary test vs. control campaign analytics